How Will Technology Shape Travel Management in the Future?
Posted by Mike Atherton on 31 January, 2016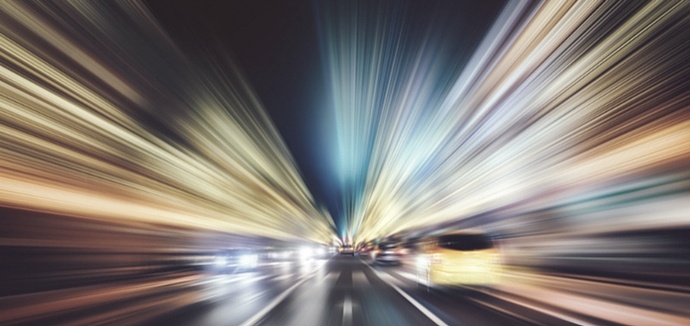 Wearables as the norm, self-driving vehicles, smart machines, seamless automatically translated meetings, and biochips; the future of business travel management is a fascinating place.We have already looked at the travel trends we expect to make waves in 2016, but now we are looking further ahead.
With reference to the latest Gartner's Hype Cycle, which graphically represents the maturity, adoption and, of course, "hype" surrounding specific emergent technologies, we have identified a number of thrilling innovations expected to emerge over the coming years that may well have a powerful impact on the business travel and travel management sectors.
The Hype Cycle: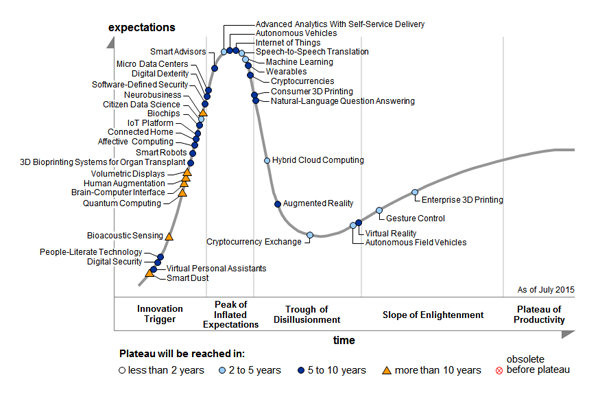 Wearables, Augmented Reality and The Internet of Things
Augmented reality, many wearables and The Internet of Things (IoT) are already available and all around us, and are already making travellers' lives easier and helping travel managers to offer an enhanced level of service.
Imagine a scenario whereby a busy c-suite traveller misplaces his or her phone during a busy day of meetings:
With access to traveller tracking and IoT devices, the travel manager may be able to locate the phone (possibly even before the traveller realises it is missing!) and ensure the traveller is able to safely retrieve it. In the meantime they can get in touch with the traveller's accommodation and contacts, perhaps informing a client of the situation and letting them know that the traveller may be late for their engagement because of it. Then, when the traveller returns to their hotel after their day of meetings, they discover a brand new phone set up and waiting for them, all arranged by the travel manager.
While they're already making a splash, we can expect to see both and increase in the numbers of these types of technology and a cumulative effect on the travel industry as time goes on.
For starters, as we move further into 2016, we also expect to see an increase in baggage tracking technology, both implemented by airlines themselves and as personal devices helping to avoid the lost baggage nightmare and improve traveller peace of mind.
Wearables, augmented reality and the IoT also all offer further future merchandising opportunities to the travel manager, especially if smartly incorporated into a travel itinerary management process. For instance, a traveller wearing a smart watch could receive an alert to inform them that there is an excellent restaurant nearby, with a voucher or code for a time sensitive discount.
Smart Advisors
Smart advisors are another technology that is already becoming an almost everyday reality. As the technology advances and becomes more prevalent, these smart machines may become a good friend to the travel manager. Travel itinerary management could be bolstered by helpful smart advisors in transport hubs, providing useful and perfectly up to date information to travellers and answering their enquiries, saving time for the travel manager.
Gartner claims that "the smart machine era will be the most disruptive in the history of IT", whether they are correct remains to be seen, but there's no doubt that the effects of this technology will be fascinating and ground-breaking.
Biochips
Taking a peek into the far future, we stumble into biochips, expected to be with us in 5-10 years time.
Travel managers are now capable of tracking their travellers using devices such as their smartphone, but these can easily be lost, stolen or simply forgotten. Imagine if you could track your traveller through a device within them – that is the potential of biochips.
Biochip implantation may seem rather extreme, but imagine how powerful it could be in the case of travelling to areas of heightened risk. A traveller's safety and security is paramount after all.
Speech-to-Speech Translation
In the first instance, speech-to-speech translation will likely be implemented in video chat programs such as Skype. This may render some meetings and conferences unnecessary and greatly improve the worth of conference calls. Then, further down the road, we can imagine how brain-computer interfacing could become commercially viable and possibly bring further nuance into remote meetings.
However, no technology can take the place of the rapport created by meeting face-to-face, and, of course, there is much more to business than just meetings, sp the next generation of digital tools will likely enhance business travel, making an all-round smoother enterprise experience.
Autonomous Vehicles
From science-fiction to reality – plenty of big name automobile manufacturers, such as Mercedes, BMW and Audi, are currently working on autonomous car designs, and Apple and Google are both invested in the future of this technology.
We can expect to see the first commercial autonomous vehicles in around 5-10 years, and it is easy to see how these will revolutionise business travel. Of course, a world where self-driving vehicles are the norm is far more distant, but the travel managers of the far-off future may find they need worry about transit risk far more, as human error is removed from the equation.
These are just a few of the most exciting emerging technologies that are bound to have a profound effect on the state of travel and the wider world as a whole. Perhaps the most exciting thing will be those technologies and changes that weren't foreseen.
For an in-depth look into the nearer future of travel management, with a focus on duty of care and risk management, download our incisive Q&A with iJet's John Rose.