TMCs: beware of the hidden costs of self-build mobile apps
Posted by Mike Atherton on 23 September, 2015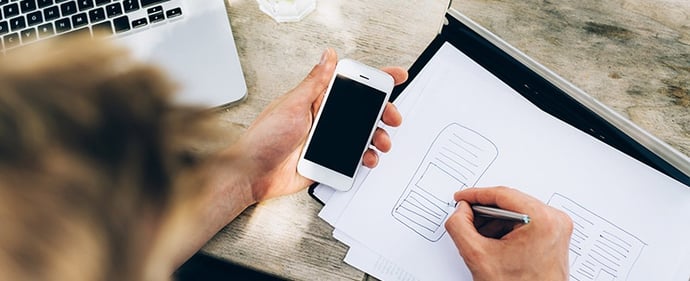 It's crucial that, as a TMC, you're able to control your traveller communication channels so you're part of the conversation with the traveller. With full control, you can maximise both the service experience and revenue generation opportunities that come along with it.
I've written before about how using GDS-owned mobile apps limits opportunities to open new revenue streams and fails to promote or differentiate your brand.
It's no surprise then that some TMCs opt to build their own mobile travel apps to serve travellers with itinerary and post booking information. Whilst this means you can completely customise the user experience, building your own travel itinerary app comes with substantial hidden costs further down the line. Here's why.
What many companies fail to see is that building a mobile app isn't a one-time project. App development is an ongoing process.
With security patches, features requests and OS updates, maintenance is a continuous activity and cost.
Take OS updates as an example. Apple and Google release updates for their iOS and Android OSs regularly. There's a major iOS update once a year and a major Android update every six to nine months.
These updates add functionality opportunities for developers, but also problems. Every app needs to be configured to work with the new OS.
For instance, Apple recently released iOS9. A host of new features presents opportunities for developers to better take advantage of Apple's hardware. Multitasking is one such new feature, which enables users to run two applications at the same time, by splitting the screen of larger devices. Force touch is another great feature allowing new kinds of interaction with your app.
These new features are great. But leveraging them requires updating your application, time to get the highly paid contractor back in, or re-tasking the development team.
Each update by Apple also poses possible rule changes that impact on how apps should be built. Should you require changes to your app to make it compatible with an OS release, you'll need to invest more money, recruit or re-task developers, put your current development of new exciting features on hold and delve back into your existing code.
Apple recently put their weight behind using HTTPS as default for apps. Developers were told: "If you're developing a new app, you should use HTTPS exclusively. If you have an existing app, you should use HTTPS as much as you can right now, and create a plan for migrating the rest of your app as soon as possible." Self-built TMC apps will need to eventually be updated to cater for this.
All of this continuous maintenance means the true cost of releasing your own, self-built app is often much higher than anticipated.
Wouldn't you rather be running your travel business?
By working with a software-as-a-service (SaaS) provider like Mantic Point, you are insulated from these responsibilities and investments. App maintenance is our responsibility, leaving you to focus on running your agency.
When you use a specialist SaaS offering for TMCs like Mantic Point's technology, you maintain complete control over the traveller experience and the end-to-end conversation, without the hassle of dealing with technology infrastructure.