How to Promote Your TMC's App As The Best For Organizing Travel Itinerary
Posted by Mike Atherton on 13 June, 2016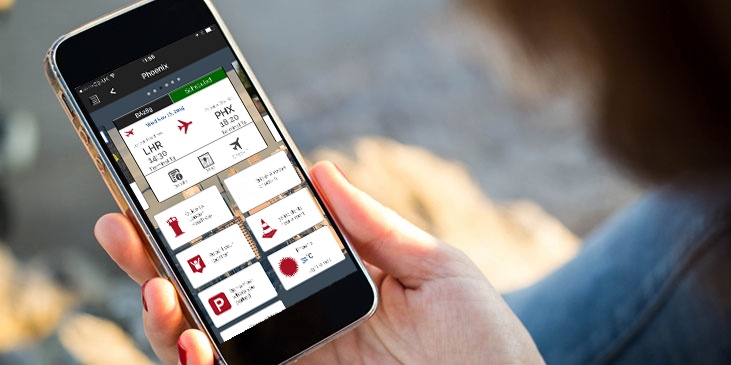 Investing in your travel app is only the beginning of your mobile journey. These 13 tactics can help you develop your user base, and start on the path to generating return on investment.
So you've taken the plunge and invested in an itinerary app. After months of development, management are bought in, marketing have signed it off and now you need to attract a user-base.
If you search the Apple or Android app stores you'll find page after page of travel apps, which your app will have to compete with. But you have something most of your competitors don't – you know your target audience, you already contact them and you even know when and where they are going.

In short, you have what most marketers can only dream of – your travellers' itinerary and permission to support them. Here are 13 tips on how to leverage this advantage and attract users to your travel app.
1. Utilise itinerary emails
With control of your document delivery service comes the potential to remind travellers that there's a mobile solution that can make their travel easier. If a third-party controls your TMC's itinerary emails, this opportunity to promote your app is wasted, but with a solution like Mantic Point's document delivery platform, you are in charge of what the traveller receives.
2. Make it web visible
Your mobile service should play a prominent part of your website messaging if you see mobile as a key part of client retention. For maximum exposure, place your itinerary app promotion on main pages of your website and in your client portal.
3. Start blogging
Make mobile and its use within travel a topic of interest on your blog. Discuss topics related to mobile and demonstrate its potential value to your clients' businesses.
4. Add it to your email signature
Including information about your mobile app in your email signature is simple, yet effective. It's a quick and easy way to ensure that every time you send an email, your clients are reminded of your mobile app.
5. Get social
Social media may not be part of your marketing mix, but posting updates about your app and including information on how your mobile offering sets your agency apart in your profile descriptions can be a great, simple way of spreading the word.
6. Send update emails
As your digital strategy and application evolves, keep your travellers and travel arrangers updated. Possibly the best way to achieve this is by sending an email to clients to inform them of new mobile features and how they can benefit from them.
7. Create product videos
The purpose of your itinerary app is to help the traveller or the travel arranger. But as more functionality is added, this can affect the simplicity and ease of use of your app. By creating and sharing short, feature-led videos about how to get the most out of your app, not only do you combat this problem, but you also promote your app.
8. Submit for travel awards
The travel industry has no shortage of award ceremonies and if your mobile app has something unique, it's definitely worth submitting for an award. Getting recognition from industry insiders will only serve to underpin your app's credentials.
9. Reach out to travel bloggers
The travel industry also has a large number of influential bloggers who share industry news and trends to wide online audiences. Connecting with them on platforms such as LinkedIn and showcasing your itinerary app could lead to a valuable share to their networks.
10. Target travel arrangers
Be sure to communicate the benefits of your app to travel arrangers. If they know how it can make their jobs easier by, for instance, allowing them to add memo text to their travellers' itineraries, they will in turn be more supportive of encouraging their travellers to adopt it.
11. Record a podcast
You know travel and your clients inside out. Share your industry wisdom about top destinations, airport tips and tricks and more, letting your travel arrangers and travellers know you have the latest information and the latest tools to make their trips easier.
12. Be responsive to reviews
Always respond to the comments and reviews on the app stores, no matter if they're positive or negative. By being polite and attentive you could turn reviewers into brand ambassadors and alleviate the doubt of potential app downloaders.
13. Run a contest
It's maybe a little left field, but contests can really generate brand and product awareness. A contest related to your app, supported by a buzz-generating prize, could showcase how other travellers use and benefit from it.
As demonstrated, promoting your travel app doesn't have to be expensive. By covering the bases and thinking outside the box, you can utilise your TMC's access to travellers and attract a thriving user base to your itinerary app.