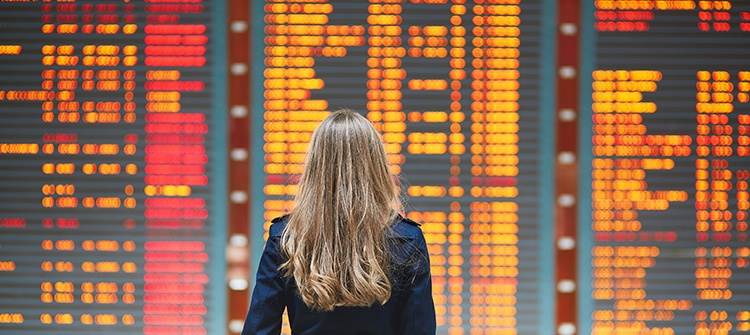 We live in a world marred by geopolitical strife, polarised by the side-effects of globalisation, and at the mercy of increasingly extreme weather—so disruption is likely to remain an unfortunate feature of business travel for some time yet. However, this doesn't mean travel managers should resign themselves to defeat. While there is a little that can be done to eradicate disruption outright, there are steps you can take to minimise its effects on your business travellers. Here are 5 of the most effective.
1. Comprehensive Travel Risk Assessments
Forewarned is forearmed. If your business travellers are due to visit a region experiencing geopolitical tension, or where nativism is a potential flashpoint, providing them with a thorough travel risk assessment can help to ease anxiety and minimise the likelihood of disruption to their trip.
In practice, this involves researching the risks associated with travellers' destinations and communicating these risks to them clearly and comprehensively. Doing so is about more than just flagging risk, it's also an opportunity to educate your travellers about safety best practices and empower them with the knowledge they need to steer well clear of potential problems.
Once this would have meant hours of research and a working knowledge of current geopolitical affairs, but this has changed with technology. Some travel management platforms provide the ability to digitally create personalised trip briefings based on up-to-the-minute risk data, making readying business travellers for hazardous trips simpler than ever before.
2. Keep Travellers Updated to Itinerary Changes
There are few things more infuriating than arriving at an airport to find your flight has been cancelled, worse still if it's at the end of a draining business trip. Indeed, recent research by the GBTA in conjunction with Sabre reveals that the major pain points for business travellers globally are:
Time spent in transit
Layovers
Changing a flight or train reservation during a trip
The work environment when travelling
While itinerary changes and occasional delays are always going to be a feature of business travel, simply keeping your travellers informed can go a long way towards minimising disruption. Providing your travellers with flight status and itinerary change alerts direct to their smartphone can help them to maximise their time and lessen the effect of cancelled or rescheduled flights.
You should also make provision for answering any queries your travellers have about delays or cancellations. This could be achieved via traditional methods such as telephone or email, but to truly minimise disruption, consider using live chat to communicate with your travellers in real-time and using smart chatbots for out-of-hours exchanges.
3. Provide the Little Things
It's often the things you didn't think of that end up disrupting a trip. Something as small as arriving late for check-in, getting lost on the way to the hotel, or not dressing for the weather can create trip friction and interfere with how smoothly things run for the traveller.
To illustrate, consider the potential disruption of missing check-in or arriving late for a meeting, on both the traveller's schedule and their enjoyment of the trip.
This is where travel management software can help. Delivery of updates, such as check-in reminders, destination guides, weather forecasts and the latest currency conversion rates to your traveller's smartphone is now a function of many travel management applications. Providing this information, from a single source, can help insulate your travellers against the everyday mishaps that can turn into big disruptions.
4. Traveller Tracking and Risk Alerts
Earlier we covered travel risk assessment as a way to pre-empt possible disruption, but what do you do if the latest crisis hits while your travellers are already "on the ground" in the affected region?
Minimising disruption and risk to travellers in areas hit by emergency relies on two key things: firstly, you need to know which travellers are likely to be affected and where they are; secondly, you need to be able to effectively communicate with those you've identified as being at risk.
To tackle the first, it's worth considering the use of GPS tracking for your travellers. Doing both allows you to identify those travellers in affected regions and gives you a clear understanding of the impact on their whole itinerary. To ensure effective communication, using tools such as live chat, push notifications and SMS can help you issue guidance to your travellers swiftly and minimise uncertainty.
5. Be Ready for What's Ahead
Perhaps the most important aspect for any TMC or travel manager looking to minimise the effects of disruption on their travellers is simply being prepared for the inevitable when it does happen.
Encourage your travellers to keep their traveller profile up to date with the right contact information, most importantly mobile number, so you can reach them during any disruption. Accurate traveller profiles are a crucial part of ensuring duty of care and minimal disruption in any travel emergency. So, make your travellers aware of the maxim "if we can't find you, we can't help you."
Disruption will always be one of the potential inconveniences of business travel, much like tiring schedules or time spent away from loved ones. However, technology is providing travel managers with more tools than ever before to combat the worst effects of travel disruption. Travel management software can help you find your travellers in the event of an emergency, keep them abreast of changes to their itinerary as they happen, and provide them with all the information about their location they need to enjoy as smooth a trip as possible.
If you'd like to know more about how you can prepare for disruption and minimise its impact on your business travellers, download our guide to preparing for travel emergencies.