6 Steps to Brilliant Post-Booking Merchandising for TMCs
Posted by Mike Atherton on 12 July, 2016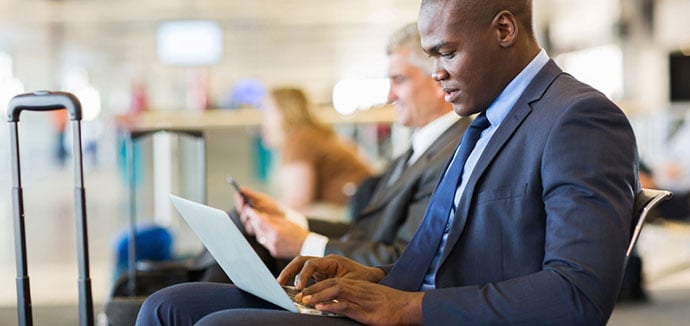 Post-booking merchandising in business travel has often been an afterthought, usually led by the traveller or travel arranger reminding their consultant that they need additional services. As the travel industry is moving through a period of disruption and the role of the TMC is evolving towards a more open, data centric provider of travel services rather than today's gatekeeper role, the traditional approach to post-booking value creation also needs to change.
If your agency is to make the most of the post-booking merchandising opportunity and your knowledge of traveller movements, preferences, client policies and supply relationships, then you need to develop your capabilities to automate and personalise your traveller communication strategy. These steps will enable you to achieve this:
Step 1 – Spot the Opportunity
Consultants are busy and client's policies vary, so it's almost impossible for a travel consultant to spot a merchandising opportunity for an individual traveller once their booking has been made. Every potential opportunity has a limited lifespan – traveller behaviour changes as their departure date nears.
Automating the identification of the opportunity can revolutionise merchandising for TMCs, by monitoring and recognising post-booking opportunities and thereby ensuring additional revenue streams are not missed.
Step 2 – Select the Right Product
The role of a TMC is to manage the clients' travel budgets for maximum value and to ensure that any products offered are fully compliant.
Managing any opportunity against policy is paramount; however, by leveraging your existing and new supplier relationships, you can add value and offer travellers products relevant to their trips. Again, with a carefully developed, rules-based automated system, you can offer the right products to the right customers.
Step 3 – Deliver a Powerful, Timely CTA
Time is precious; travellers don't want information that isn't immediately valuable or gets in the way of what they're doing. So it's crucial to ensure your product messaging is provided to travellers in the in the right manner, with a powerful and enticing call to action (CTA), and at the right time.
Communicate too early and it's irrelevant and intrusive –communicate too late and the traveller has likely purchased their additional products already. Different products have different optimal purchase moments, so the timing of the messaging is as important as the product itself.
Step 4 – Manage the Fulfillment
There's always more than one medium to fulfill the traveller's needs, for instance: via mobile, in conversation with the consultant or via the TMC portal. Build a flexible communication plan that provides the traveller with the convenience to choose the easiest option to make a purchase.
Step 5 – Integrate into the Itinerary
Often a traveller will receive multiple documents relating to a single trip because the TMC lacks a single, comprehensive view of the traveller's journey. When rail, flight, hotel and other travel segments are delivered as disparate documents, it makes it harder to give travellers a easy overview of their trip. It also means losing the opportunity to present offers that might be relevant, if only their context wasn't lost across a fragmented itinerary.

When the TMC can offer a single itinerary, whether online, via email or on mobile, they gain incremental opportunities to offer products by making the traveller aware of missing gaps in their trip that could be filled with just a click or call.
Step 6 – Review, Refine, Repeat
The post-booking merchandising process is not static. As you incorporate intelligence and insight into client and traveller behaviours into your automated post-booking traveller interaction, you'll drive more and more value from refining your understanding of the opportunity. This allows you to develop more compelling CTAs and alter the balance of fulfillment.
Mantic Point's TripGap agency merchandising platform enables TMCs to automate personalised post-booking conversations that are meaningful for the traveller and valuable for the TMC.