Business, leisure and the role of TMCs
Posted by Mike Atherton on 07 May, 2015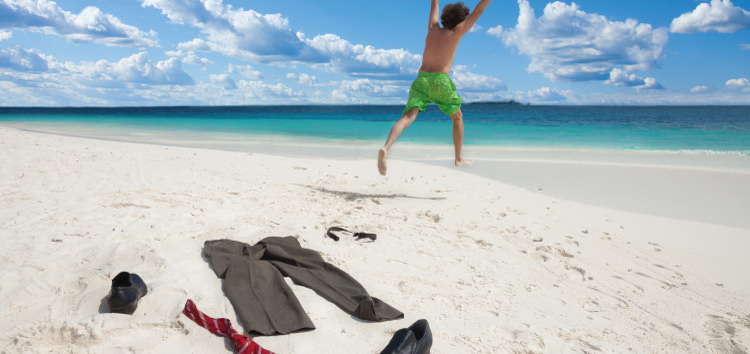 However you refer to the mixing of business and leisure travel, (bizcation or bleisure?) you can't ignore it. There have been quite a few recent reports and surveys on this phenomenon and they all come to the same conclusion: More business people engage with it than do not and the trend is increasing. Travel Management Companies wanting to stay ahead should embrace the opportunities it presents.
One recent business travel survey appears in PhoCusWright's 'The Year Ahead in Digital Travel'. Three interesting facts come to light. From over a thousand business travellers surveyed the authors conclude that nearly two thirds of people add a leisure extension to a business trip. The average duration of the stay is four days and more often than not, clients include someone else on their booking.
It makes sense for many reasons. With the rise of the smart phone, the distinction between work and leisure time is already blurring. (Who hasn't been guilty of checking and replying to work emails 'after hours'?). And with people keeping a closer eye on their household budgets now than in, say, the roaring noughties, they naturally want to make the most of any leisure opportunities and save a little expenditure where possible.
And in case you're wondering, the trend is by no means limited to middle-aged executives. In their annual American Travel Behavior Survey, Hotwire and business-travel company Egencia found that more than half of 18 to 34 year olds had added a short break to a business trip. (mashable.com)
It's a trend … and it's here to stay
The 'The Year Ahead in Digital Travel' report concludes that the success or failure of travel companies in the years ahead will hinge on them being able to add value to their offering beyond traditional products and services.
Few companies actively encourage their employees to take bizcations but so long as your Travel Management Company can balance corporate travel policy restrictions with the way an individual traveller might want to use your services, the leisure travel add-on is a great opportunity to add value and delight the traveller … and yes, to earn extra commission.
Be aware of concerns
After years of tightening up compliance, clamping down on travel policies and scrutinising budgets, some companies are wary of employees mixing business with leisure. One concern is that a bizcation might be perceived by others to be a 'corporate jolly' even though travellers pay their own way.
Care also has to be taken to check insurance as some business policies exclude leisure activities. Then there is the challenge of ensuring no taxable benefit is incurred by the employee during the leisure portion of a trip.
So while there are challenges for TMCs, they are not insurmountable so long as arrangements and reservations are made within agreed guidelines and are policy compliant.
Benefits to companies
Sometimes it can work in the company's favour to allow an employee a few days holiday at the end of a business trip. It is not uncommon, for example, for airfares to be considerably cheaper if a Saturday night stay is included.
Companies should not underestimate the value of goodwill either. A flexible policy towards bizcations goes down well with employees.
Benefits to TMCs
Some TMCs choose to steer clear of offering leisure add-ons, others include it as part and parcel of their VIP services while a few actually run separate leisure travel departments.
As business travellers become more discerning and their options grow, every point of differentiation between your TMC and the competition matters. Offering to make leisure bookings for business travellers is a merchandising opportunity to enhance their experience and strengthen their loyalty to your brand.