What Does the Future Hold for Post-Booking Merchandising?
Posted by Mike Atherton on 02 August, 2016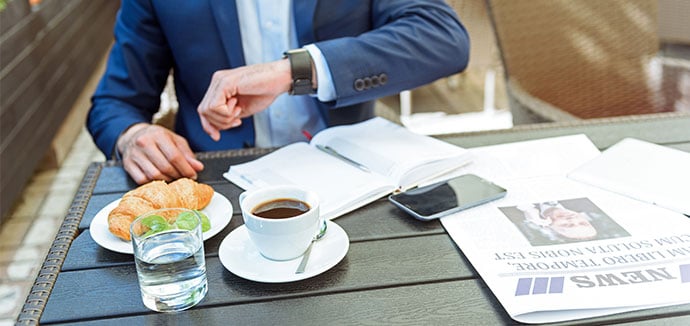 In an increasingly competitive environment, a TMC's ability to maximise their revenue by offering ancillary merchandising opportunities is crucial. With frequent technological advances and a changing customer base, what will the future of post-booking merchandising look like and how could TMCs respond?
Increasing Importance of Now
Assuming TMCs have already integrated their travel data sources via APIs, it is now time to use their data. By integrating their data and knowledge of their client's buying behaviour, TMCs could deliver timely call to actions around ancillary merchandising opportunities.
Through predictive analytical tools, the future power of Big Data could allow TMCs to anticipate a merchandising opportunity before the traveller had even thought about it. As a traveller goes through arrivals, their travel itinerary app could offer them a chance to beat the queues for taxis or train tickets, based on segment persona habits, user location and local weather data.
The accumulation of Big Data, with the complementary analytical tools, would create insights that would allow TMCs to personalise their merchandising offering to target the right person at the right time.
Targeting the Business Travellers of Tomorrow
The next generation of business travellers, milliennials, are embracing business travel, with 57% preferring face-to-face meetings over virtual alternatives. In response, TMCs need to tailor their merchandising offerings towards this growing market.
According to recent reports, 49% of millennials use their smartphone when planning a trip and check their smartphones, on average, every five minutes. Therefore, future itinerary apps may allow millennials to view, book and pay for ancillary items from smartphones, for a truly integrated experience.
A TMC's ability to offer merchandising will become increasing important due to the rise of the 'business holiday'. This trend is likely to continue as a recent Expedia study found that millennials are 62% more likely than older employees to extend a business trip to a holiday. As long as TMCs comply with company policies, they would have to make the most of this opportunity or risk failure, according to the 'Year Ahead in Digital Travel' report.
Higher Levels of Automation
Every opportunity for post-booking merchandising has a lifespan. Therefore, TMCs need to be proactive in their offering. Using automation to identify these opportunities ensures that these additional revenues streams aren't missed.
Automation mechanisms of the future would be far more intelligent to react to any situation. If a traveller's flight gets delayed, integrated itinerary apps could reschedule the taxis and meetings that follow. However, the next step for TMCs would be to adapt their merchandising offerings in accordance with the new contextual environment, thanks to intelligent automation. For example, with the delayed flight, automated systems could identify that a business traveller on his way to Rome will now arrive when it's raining. As the itinerary app knows taxis are difficult to find in the rain, a pre-booked taxi service will be offered. This high level of automation ensures no merchandising opportunity is missed, even when travel plans change.
More Technology, More Opportunities
With technological advances in the pipeline, TMCs need to think creatively in how they could be integrated within merchandising.
Wearable technology is already being used by a number of business travellers, but the first wave of products fell short, with a high abandonment rate after six months. The next generation of wearable technology is set to push the industry forward. This could therefore take merchandising notifications out of the traveller's pocket and onto their wrists, meaning that the timing of the offer becomes essential. Of course, having constant notifications on your wrist could be distracting and TMCs will need to be careful in the future by streamlining their merchandising offerings to prevent overwhelming business travellers.
Beyond wearable technology, speech-to-speech translation, such as the piloted Babelfish earpiece, is set to revolutionise the travel industry. This creates an opportunity for merchandising. For example, not only could TMCs offer discounts on ancillary products and services, but they could also help travellers translate the words and phrases they would need during the interaction with the merchant.
As we move 5 to 10 years in the future, integrating augmented reality technology, such as Microsoft's HoloLens, with merchandising offerings could present itself. For example, instead of using an integrated map to find the local coffee shop, augmented reality headwear could direct travellers with arrows and pointers placed within their surroundings. Even static head-mounted displays, such as the Google Glass, could open up merchandising opportunities, for instance during in-flight entertainment.
Finally, the expected growth of the 'Internet of Things' would allow itinerary apps, wearable technology and augmented reality technology to interact with more and more technology. Whether it's allowing travellers to control their hotel room's air-con from their smart watch or helping to find their car in the airport car park, the Internet of Things would provide more opportunities for merchandising. Additionally, the internet of things would enable TMCs to create more insights, from the increasing number of data sets, to further personalise their offering.
Conclusion
With many new technologies predicted to be released over the next 10 years, partnerships between technology companies and TMCs are likely to increase, with the aim to improve the business traveller experience and increase additional merchandising revenue. However, as the necessary infrastructure for the future of merchandising already exists, it's now up to TMCs to integrate technology and automate data to maximise merchandising opportunities for the business travellers of tomorrow.
To explore this topic in more depth, download our Q&A session with Gary McLeod, from Traveleads, to get his take on how the future of business travel will evolve.