Business Travel Trends to Look Out for in 2020 and Beyond
Posted by Mike Atherton on 24 October, 2019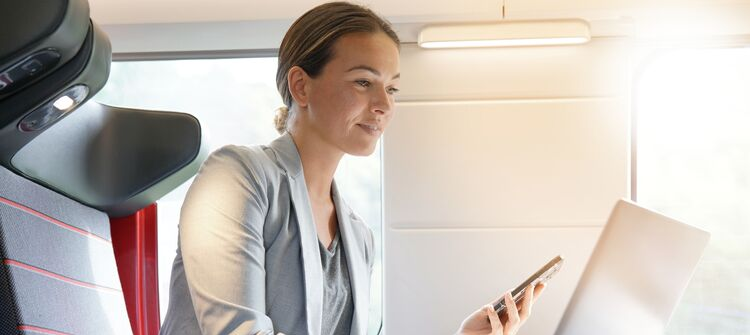 The unrelenting pace of technological advancement has fundamentally altered the way we travel. Trends in business travel are taking an all-new direction. Even a few years ago, international business trips were typically weighed down by a mountain of paperwork – tickets, boarding documents, corporate travel policy, and physical itineraries.
Mobile technology has been instrumental in simplifying the process, giving TMCs access to consolidated, all-in-one platforms that eliminate much of the stress that comes with foreign travel. Indeed, the National Car Rental's 2019 State of Business Travel survey reports that 93% of frequent travelers say their preferred travel brands are those that have a firm grasp of modern technologies.
However, it's not technology alone that's driving this change. As the presence of millennials and generation Z in the workplace increases — demographics for whom life before Google and Facebook is little more than a distant memory — so too has our demand for seamless, friction-free corporate travel.
Consequently, TMCs incapable of adapting to this change and the trends precipitated by it face an uphill battle to stay competitive.
With that in mind, we take a closer look at some of the most fascinating business travel trends for 2020.
Business Travel Trends for 2020
Artificial Intelligence
For decades, people have debated the potential benefits (and dangers) of artificial intelligence. We're still a long way off robotic housekeepers, of course. Yet the travel industry has already started to shift towards AI. And that will continue apace over the coming years.
In purely financial terms, the combination of this technology (along with virtual reality and machine learning) will contribute a staggering $15.7 trillion to the global economy by 2030 – 55% of which will be due to the subsequent upsurge in productivity.
It might seem relatively far-fetched to think AI will have such a transformative impact on travel industry efficiency. But, thinking about it logically, it's not hard to see why that might be the case.
With AI performing simple tasks (distributing security alerts, flight status updates, and the like automatically as and when they become available), the TMC is free to concentrate its efforts on streamlining and improving their service offering, instead of basic logistics.
On top of that, there are various other AI-powered technologies that will further improve the front-line traveler experience. AI-powered GPS, for instance.
Whether updating the user on local traffic conditions and potential disruptions to public transport or providing them with alternative routes and shortcuts to their destination, AI-powered GPS will make navigating unfamiliar cities noticeably easier. Additionally, there is some discussion that, as AI technologies become more refined, they'll be able to translate languages in near real-time; tearing down language barriers.
Machine Learning
A related technology that's likely to influence corporate travel in 2020 is machine learning. specifically, leveraging the data TMCs collect from their clients to design better, more personalized experiences.
Although we technically have access to the data right now, artificial intelligence, supported by sophisticated and adaptable machine learning algorithms, is the only cost-effective way of processing this vast store of raw information fast enough to be of any real value.
Combining real-time information on local conditions with the subtle, usually indiscernible patterns in the traveler's behaviour, TMCs can provide their clients with more accurate recommendations: the most competitively-priced flights, hotels, and car rentals, among other things. Put simply, by embracing the trend of machine learning, TMCs can deliver unparalleled experiences, carefully tailored to meet the needs of each individual client.
From the TMC's perspective, one of the major knock-on benefits is the ability to send targeted promotions to their clients. In addition to helping them raise brand awareness, it improves their merchandising efforts by enabling them to design and price products around their clients.
Bleisure
Bleisure /ˈbleʒ.əʳ/

noun

A portmanteau of "business" and "leisure". Refers to the activity of combining business travel with leisure time.
The concept of combining business and leisure into a single trip (or bleisure) has steadily gained in popularity over the last few years. For example, almost half (43%) of business trips in the US are categorized as bleisure trips, according to a recent survey. While the National Car Rental 2019 'State of Business Travel' survey found that 90% of millennials engage in bleisure travel on an annual basis, suggesting that this shift in mentality is driven primarily by this one demographic.
From the traveler's perspective, the benefits are obvious:
A better work-life balance
Significant savings on otherwise expensive holidays
The chance to explore exotic destinations
The opportunity to decompress and unwind at the end of a tiring week of day-long meetings and corporate schmoozing
As far as the TMC is concerned, these extra days create new merchandising opportunities.
Mobile
Mobile technology has certainly made it easier than ever for TMCs to stay connected to their clients; from the automated delivery of security updates, to instantaneous itinerary alterations and consolidated document delivery. More than that, however, the rise of the smartphone has given travelers unprecedented freedom when it comes to managing the different aspects of their trip independently.
Data published on FCM Travel Solutions reveals that 39% of hotels and 22% of flights are booked on smartphones. Indicating a marked shift away from desktop towards mobile applications. However, this technology isn't only useful as a convenient booking platform — self-service functionality and automation are equally in-demand.
At Mantic Point, we incorporate chatbots into our service offering to support travelers at every stage of their trip. Rather than having to rely on the individual consultant to disseminate pertinent information (delays, cancellations, security risks etc.), the information they require is available whenever and wherever they need it; either from a self-service platform or distributed automatically by their AI assistant.
Travelers must have complete confidence in the technology itself for this to be a viable option, all the same. Fortunately, data collected by Forrester suggests the modern traveler is more than happy to communicate with their TMC digitally. Which, as 5G increases connection speeds across the globe, is only going to become more common.
New Distribution Capability
Finally, with so much talk surrounding New Distribution Capability (NDC) since the International Air Transport Agency (IATA) began work on it back in 2012, we expect to see NDC standards becoming ever more prominent in 2020.
Created by IATA in order to facilitate the development and adoption of a new XML-based data transmission standard, the main purpose of NDC is to enhance the capability of communications between airlines and travel agencies.
Practically speaking, this should make the booking process easier for the corporate traveler, whilst also providing them with plenty of options when it comes to finding the best deals. Crucially, all of this information will be delivered in a fraction of the time we're used to. And that should make life considerably easier for both traveler and TMC.
Many technology providers have already begun preparing for NDC. Sabre, for example, released its inaugural set of NDC-ready API's earlier this year. United Airlines was the beneficiary and, since that time, has been able to offer new fare options to its customers, along with improved in-flight amenities and shopping experiences.
Stay One Step Ahead of the Game
Keeping up with these technological innovations can be a daunting challenge, but it's one that we've always risen to.
Mobile technology has been central to our service offering for years now. It is supported by an array of tools that enable us to personalize and automate the distribution of content to the TMCs that depend on us. More recently, we've incorporated self-service functionality and even predictive analytics into our suite of travel management tools to better meet the ever-changing needs of corporate travelers in the modern world.
To discover how Mantic Point can help your TMC flourish, head over to product page. Alternatively, if you're looking for something a little more hands-on, book a free demo.