Hotels Prioritizing Business Travelers
Posted by Mike Atherton on 08 June, 2023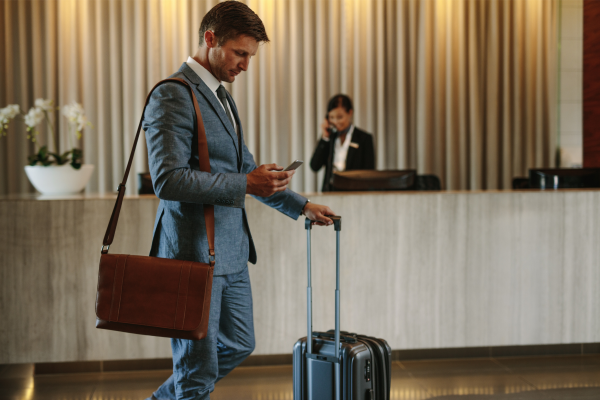 Hotels worldwide are turning their focus toward an often-overlooked segment: business travelers. The traditional perception of business travel is changing, and hotels are stepping up to meet the new expectations.
Blurring The Lines Between Business And Leisure
The term "bleisure" has become more than a catchphrase in recent years. Instead, it represents a meaningful change in how people view work-related travel. The premise is simple: Why not combine business with pleasure? In 2022, data showed that 65% of travelers planned to mix business with leisure. For hotels, this development translates to more extended stays, increased revenue, and a chance to offer a broader range of services and amenities to their guests.
Hotels have responded to this trend by transforming their spaces and creating environments to support both work and play. As a result, the once clearly defined lines between business and leisure hotels have blurred. Hotels are now creating third spaces – lounges, coffee shops, co-working areas – where guests can interact, work, relax, or simply enjoy the community vibe.
Lobby spaces are also receiving a makeover. Extra seating, charging stations, and complimentary coffee are just a few enhancements designed to encourage guests to spend more time in these common areas.
Wellness, Sustainability, And Technology Take Center Stage
Another significant shift is the increased focus on wellness at traditionally business or corporate hotels. Today's business travelers are more health-conscious, and hotels are taking measures to support this lifestyle. Upgraded gym facilities, healthy on-the-go food options, and more intelligent designs centered around lighting, space, and scent are now standard features.
Sustainability is another crucial area of focus. More travelers are selecting brands that align with their values. Hotels are responding by introducing programs and products that minimize travel's environmental impact. Options to skip room cleaning, choose eco-friendly amenities, and utilize mobile room access instead of single-use plastic cards are becoming standard offerings.
Incorporating technology to enhance the guest experience is a critical area of focus. For example, mobile apps now offer various services, including check-in and room access, allowing guests to bypass the front desk. A modern, seamless experience is what today's business travelers expect.
Personalizing The Guest Experience
The demand for larger rooms and apartment-style accommodations has surged post-pandemic. These options offer guests their own space, complete with living areas and kitchens, while also providing access to the traditional hospitality experience.
The growing desire for personalization is also dictating how hotels craft their offering. Guests can now request a wide range of amenities via hotel apps, from selecting a particular floor type to choosing their favorite water brand.
The push for personalization goes beyond just meeting guests' needs. It's about exceeding their expectations. With knowledge of the trip's purpose, hotels can provide a service that is personalized and predictive, enhancing the guest experience significantly.
Embracing The Future Of Business Travel
As hotels shift their focus to business travelers, the hospitality landscape is being redrawn. This transformation promises a future where every trip becomes an opportunity to explore, connect, and rejuvenate. With emerging trends like personalization and wellness at the forefront, the future of business travel hospitality is set to deliver richer, more fulfilling experiences than ever before.
To find out more about Mantic Point can help you, please contact us today.
Image Source: