The Top 8 Risks Facing Business Travellers
Posted by Mike Atherton on 30 July, 2018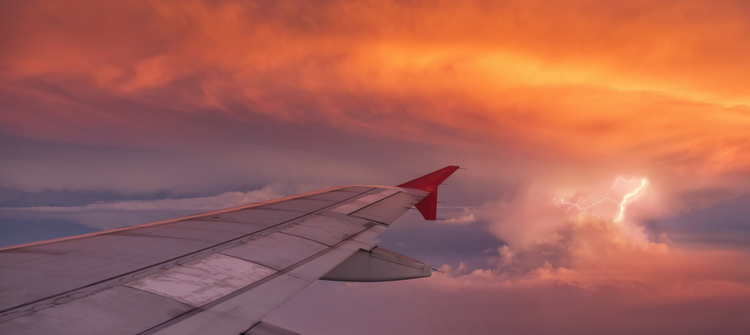 Corporate travel has always entailed a degree of risk; trips to far-flung or unfamiliar destinations ‭naturally bring with them the potential for the unexpected. However, it feels as though the risks faced by business travellers are increasing almost year-on-year. From the rise in cybercrime to extreme weather, travel managers have more to consider than ever in keeping their clients safe. We look at the top 8 risks your TMC need to be aware of.
1. Geopolitical Unrest
We live in an era in which the world resembles a smouldering tinderbox more than at any time since the darkest days of the Cold War. From the increased terror threat to geopolitical sabre-rattling to the precarious domestic situation in many locations usually considered low-risk, it can feel as though half the world is poised on the brink of a degeneration into chaos.
This naturally has a marked effect on corporate travel: 58% of changes to business travel itineraries in 2017 were due to security risks, with a sizeable portion also down to changes in countries' risk rating. While security risks have always been a part of travelling for business, the dizzying speed with which international relations are changing — particularly between the US and the rest of the world — is making it harder for even the most diligent travel managers to predict with any confidence whether a destination will be safe in a fortnight or even a week's time.
2. Environmental Threats
The first effects of global warming are beginning to be felt more keenly. One very visible way this is manifesting itself is the increasing regularity and unpredictability of extreme weather events.
Whether it's '100-year' storms occurring every couple of years, increasing instances of flooding, or the steady rise of plane-grounding turbulence on some flight paths as the planet warms, business travel is becoming ever-more subject to the biosphere's evolving climate. For business travel, this means a multiplicity of new threats to travellers' safety that either didn't exist or were vanishingly rare a generation ago.
3. The 'Overtourism' Backlash
While this is nominally a leisure travel issue, things aren't that simple in reality. The huge increase in tourism and the rise of the sharing economy over the past decade, has led to a backlash from marginalised and priced-out locals in cities all over the world. Responses range from the relatively harmless — such as protests against gentrification and the anti-tourist graffiti adorning the walls of many of Europe's tourism hotspots — to open hostility to visitors and vandalism in some cases
How does this relate to business travel?
Firstly, it's not always immediately obvious to locals who is a tourist and who is visiting on business, particularly with the growing popularity of bleisure among business travellers. Secondly, there's a small but growing number of business travellers using the same sharing economy options —the focus of a lot of locals' ire— as holidaymakers for their accommodation, opening them up to the same risks.
4. Female Travellers
We've covered how the business travel experience is different for women in the past, but it's worth reiterating. According to research by Capita Travel, 67% of women feel unsafe when travelling, while between 1/3 and 2/5 of women have experienced sexual harassment while travelling solo for work.
The risks are clear, and awareness is growing among travel managers that a greater focus on women's safety is sorely needed. However, there is a great deal of work to be done. The GBTA and WW Stay recently polled travel managers and buyers and found that although 69% agreed that women face greater risk than men on the road, just 18% of policies specifically address the safety of female corporate travellers.
5. LGBTQ+ Travellers
While Western Europe is the safest it's ever been for LGBTQ+ travellers, this certainly isn't true of the rest of the world. There are still some 72 countries worldwide where homosexuality is criminalised and more than 1 in 3 LGBTQ+ travellers has experienced some form of discrimination while abroad. Most worryingly of all, Stonewall estimates that a quarter of the world believes that being LGBTQ+ should be a crime.
All of which indicates a world fraught with risk for LGBTQ+ travellers and a considerable and pressing problem for business travel as an industry.
6. Cybercrime
Cybercrime is one of the defining issues of our time, as rapid growth in connectivity has brought with it an equally meteoric rise in risk. It's not an exaggeration to say that corporate travel finds itself at the sharp end of this risk. High-profile events such as business conferences and areas of cities frequented by visitors are often prime targets for cybercriminals, as are hotels, businesses and conference centres with their often unsecured or easily faked Wi-Fi networks.
For evidence of this, look no further than DarkHotel: a sophisticated malware campaign that used the Wi-Fi networks of luxury hotels across the globe to track and target C-suite execs from major corporations. And, with the number of people travelling for business rising year-on-year attacks like DarkHotel are only likely to become more common.
7. Bleisure's Growing Popularity
Business travel has had a big problem with travellers going 'off-policy' for a while, and with bleisure growing in popularity, the waters have been muddied further. Bleisure might have the potential to be the defining development in business travel this decade, but it's also created a lot of grey areas for travellers and TMCs alike.
Does duty of care end when the traveller begins the leisure portion of their trip? What if they're still nominally working and receiving emails and calls while sightseeing? These are thorny questions that, as yet, corporate travel doesn't seem to have a concrete answer to. Leaving travellers at risk of being without protection and TMCs at risk of getting it wrong, with all the accompanying legal risks.
8. Complacency
Finally, perhaps the biggest risk faced by business travel is its own complacency. If that sounds harsh, consider the statistics: over 50% of the business travellers we surveyed say they didn't receive any pre-trip information before travelling, just 1 in 5 employers use GPS-enabled traveller location data for tracking employees and just 20% of travellers say they have regular in-person meetings on travel policy with their travel manager.
This suggests that despite the rapid advances in the travel risk management technology available and the mounting risks involved in global travel, many in corporate travel are failing to adequately prepare their travellers.
Business travel faces an uncertain future. On the one hand, it's set to see steady growth for the forseeable future. On the other hand, it faces the task of wrestling with new and ever-evolving risks. How things go will largely depend on how TMCs are able to rise to the challenge and how well they're able to harness emerging technology to keep travellers safe.
Our new infographic is a great starting point to learn more about the risks facing travellers and travel managers, but for a more in depth summary of the future of business travel risk, dowload our Q&A session with industry expert John Rose from WorldAware.