How to Prepare Your Travellers for the In-Flight Laptop Ban
Posted by Mike Atherton on 25 April, 2017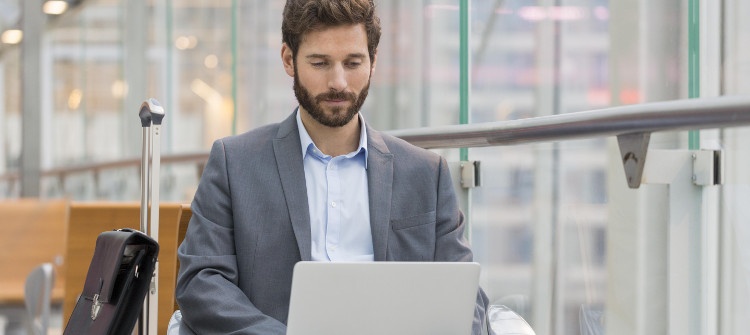 In the last month, the UK and US governments have both announced bans on laptop and tablets in hand-luggage on inbound flights from specified Middle Eastern and North African countries. It is vital for TMCs and their business passengers to be prepared for these future changes to air travel.
The UK ban applies to any electronic device larger than a "typical smartphone" (16cm long, 9.3cm wide or 1.5cm deep) carried by direct passengers from Turkey, Lebanon, Jordan, Egypt, Tunisia and Saudi Arabia airports.
The US ban states "anything [electronic] larger than a smartphone" falls under their ban. They have chosen different countries than the UK. The complete list of airports under the US ban is:
Dubai (United Arab Emirates)
Abu Dhabi (United Arab Emirates)
Kuwait (Kuwait)
Doha (Qatar)
Casablanca (Morocco)
Istanbul (Turkey)
Cairo (Egypt)
Amman (Jordan)
Riyadh (Saudi Arabia)
Jeddah

(Saudi Arabia)
Currently, information about the reasons for the ban are confidential, but many other destinations are predicted to follow the UK and US, such as Canada and Europe, as the intelligence report that led to the ban is reviewed by other countries. The US bans list of affected airports may also increase, according to US Homeland Security Secretary John Kelly: "we may take measures in the not-too-distant future to expand the number of airports".
How this affects business travellers
Passengers in business-class cabins like to get work done on long journeys, and airports like Dubai and Abu Dhabi are common as business destinations and for connected flights. Not only does the ban remove the ability to browse and work whilst on the plane but also before boarding, since the laptops must be checked in with luggage early on. This will lose business travellers precious work hours and potentially cost their companies millions of dollars in lost time.
In response, Emirates is allowing customers to use their laptops until they board and checking them in last minute. But to maintain efficiency, any airlines that take this course must hurriedly transport luggage to and from the hold. This may increase the risk of damage during transit, a problem confounded by the fact some airlines and travel insurance providers refuse liability. Furthermore, luggage from the hold is at additional risk of being lost or delayed during transit, since responsibility is shifted to the airport and airline.
The latest concern comes from technical experts who have highlighted the dangers of devices stored in the hold. Plenty of electronic devices use lithium-ion batteries which can cause serious fires. Tests by aviation bodies have discovered that these fires can burn with a heat of about 600 degrees celsius – close to the melting point of airplane aluminium.
Another travel risk for laptop users is that devices that are stored out of sight are vulnerable to cyberattacks. Anyone could get data off your computer in a few seconds by using a malicious USB device.
Possible Solutions
Of course, these risks and inconveniences do not change the fact that business trips to affected airports must still be made. So, enterprises and their travellers should take precautions to ensure work is not hindered or made vulnerable to theft.
Protect your data
If travellers need to take a device on affected flights, it is highly recommended a passcode and/or fingerprint lock be activated. Enabling remote wipe and encrypting data will also help protect sensitive information in the case of theft or hacking.
Temporary laptops
Some business flyers may use "burner" devices, with no sensitive information stored on the hard drive, if they need to work during the journey. Qatar and Etihad are offering free laptops and tablets to business-class passengers on the affected flights.
Check your security policy
It's good practice to regularly review and, if necessary, rework your security policies. Disruptive incidents, such as this latest ban, may also motivate you to consider your processes. If your travel policy includes a clause against checking laptops in with luggage, it's worth scheduling a discussion with travellers about how this may affect their trip, along with possible solutions to the issues this will cause.
Encourage smartphone working
On board some flights, such as Emirates, passengers can access free Wi-Fi via their phones. According to Emirates President, Tim Clark, 90% of passengers browse the web on their smartphones while only 6% use their laptops. Passengers can already access their travel information through travel itinerary apps, and work emails are usually accessible via mobile.
The future of travel
The traveller experience will undoubtedly change as international security tightens and use of portable and wearable devices increases, bringing new risk along with it. The limitations caused by government-introduced security policies are just one of the many developments disrupting today's travel industry and affecting business travel management.
All TMCs and business passengers should stay aware of shifts in the industry. You can download our interview with Robert Berger, CEO of leading Swiss business travel specialist, bta first, about the future of business travel here.