What Are The Benefits Of Online Collaboration Tools In Travel?
Posted by Mike Atherton on 03 October, 2022
The adoption of collaboration tools across industries has sky-rocketed since the onset of the pandemic facilitating new ways of working. Even though most organisations all but shut their travel programs during the lockdowns, as travel emerges, they face a new challenge: how can they retain the best elements of remote working and make it as collaborative as the office environment? For many, making the most of online collaboration tools play a significant part in answering that challenge.
As travel returns to pre-pandemic levels and whether you continue to work remotely or are resuming in-person collaboration, it's important to ensure that you retain and grow the collaboration techniques and knowledge that helped you survive the downturn. As travel scales up organizations will use collaboration, whether remote, hybrid or in-person, to:
 Boost efficiency and productivity
 Solve complex problems
 Improve communication across the organization
 Generate new ways of working
 Learn new things from each other
So when rebuilding your travel program, how can online collaboration platforms enable this? Traditionally, travel management and technology providers have advocated their own technology islands, portals, booking tools, alerts, documents, etc., based on a "Field of Dreams" strategy of "Build it, and they shall come", but as organizations adopt collaboration platforms for their employees, this strategy seems at odds with the management of travel. Instead of being where the traveler spends their time, they have to go outside their work environment for anything related to travel.
So, let's take a look at 4 key benefits of online collaboration tools and how they might impact your travel program. We also include some examples of using collaboration to improve travel management.
The Travel Advantages Of Online Collaboration Tools
1. Save Time And Resources
According to McKinsey 1 employees spend over a quarter of their week reading and answering emails, and almost a fifth of their time in searching and gathering information, making admin-type tasks consume going on half their working week. Organizing team travel can become unnecessarily cumbersome, sharing itineraries, informing travelers about changes, and searching inboxes for travel documents. Even for the individual road warrior, keeping on top of all their travel information might mean accessing several apps, and logging into several portals just to get a complete view of their trip.
An online collaboration tool could speed things up. For example, if your organization has invested in Microsoft Teams and people spend their day working with colleagues within Teams, but they also need to view their latest travel information or query a past trip, they don't want to have to come out of Teams while they're working, and download or log in to other apps, search for what they need and then have to re-open Teams – they just want it to be fully accessible, no matter what else they're working on.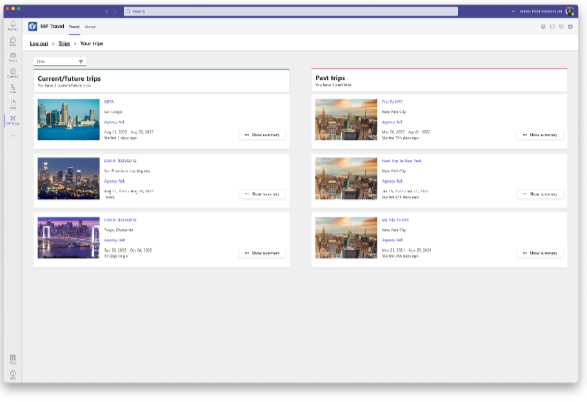 2. Increase Productivity
The second benefit of online collaboration tools: increased productivity. By integrating and automating travel-related information, these tools can make your work processes more straightforward. It's estimated that 1 in 7 business travel hotel bookings result in difficulty at check-in due to a lack of payment authorization at the front desk. Integrating virtual card information within the collaboration tool means its easily accessed and payment authorizations can be resent without the fraught calls to the travel arranger or TMC saving everyone's time.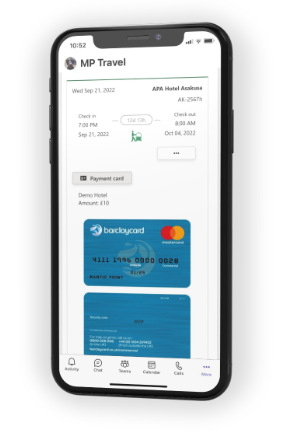 3. Improve Communication
When travel is embedded within your collaboration tool, your online workspace can become more connected than ever. If your team is distributed across different sites around the country or world having a place to share and communicate is vital. If you need to co-ordinate team travel for a customer presentation, exhibition, or company event then having everyone on the same page to share plans, make comments, and fully understand the travel objectives will make success much more likely. When changes happen, automated notifications keep the team informed in their own workspace, with no need to keep reviewing multiple apps or services.
4. Collaborations Are Made Easier
Technologies such as adaptive cards, message extensions, and bots mean travelers can search for and share the information they need within the conversations they are having, with no disruption or distraction, and everything is in context to the team's conversation whether it is with colleagues or external third parties. Within the flow of the conversation, travelers can select just the elements necessary and share the relevant trip information with their colleagues without stepping outside where everyone is working, so everyone can make better travel decisions.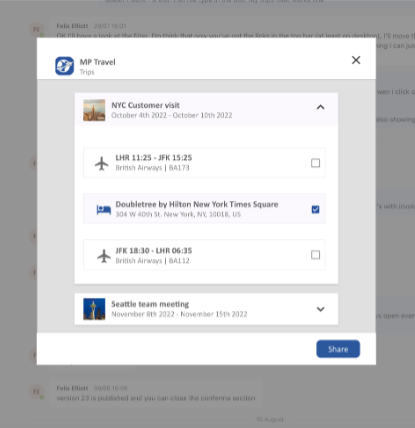 To summarise, the travel program advantages of using online collaboration tools are:
 Saving valuable business time and resources
 Increasing productivity so travelers and arrangers can focus on the most important tasks
 Improving communication within teams, between teams, and with third parties
 Helping to overcome obstacles, and generate ideas and solutions to complex travel
problems
Image Source: Unsplash
Sources - Mckinsey: https://www.mckinsey.com/industries/technology-media-and-telecommunications/our-insights/the-social-economy