How to Choose a Travel Risk Management Provider
Posted by Mike Atherton on 03 March, 2020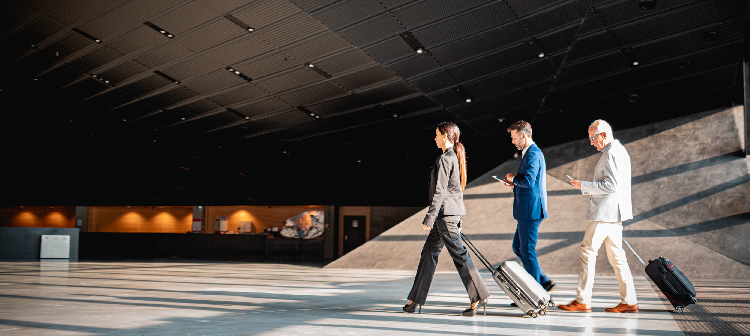 Ensuring a business trip goes smoothly is an essential component of corporate travel management. Your travelers need to be on time, have access to important information, and be equipped with everything they need to fulfil the goals of their trip. Be it travel document delivery, personalized itineraries, or travel updates. Misinformation or inconveniences, such as a missed flight, can lead to time-consuming and costly consequences – resulting in unhappy business travelers.
However, as many Travel Managers know, business trip safety is a constant priority that is ever-present in fulfilling traveler needs.
A successful trip is reliant on two things: knowing the risks your customers might face, and your ability to mitigate risk before it affects them directly.
To do this, you need real-time visibility of risk, no matter where in the world your traveler is located. And, a robust system that lets you monitor and communicate with them.
What Challenges Do Travel Managers Face?
Not all travel risk management platforms are built equal. For Travel Managers, sourcing and processing travel risk data can become troublesome without the ability to meaningfully aggregate and report data. And, maybe not all your travel management company (TMC) sources are vetted, trustworthy, and specific to traveler locations.
In a critical situation, your customers need information fast. It's important to consider that disparate travel risk data from various sources can be unreliable or appear in different formats that make it hard to process.
If these issues sound familiar, it might be time to reconsider the travel risk management software you use. What are the features of trustworthy travel risk management software?
How to Find a Superior Travel Risk Management Tool
Data Consolidation
Obtaining a single view of travel risk data can speed up the process of communicating vital information to your travelers. Most importantly, research shows that businesses that have access to consolidated data save up to 25% of their travel costs due to improved clarity.
Whether you manage travel within a global corporation, or work with clients who regularly travel national or multi-national distances for business – you need a platform where data can be easily shared between travel management companies (TMCs) and consolidated into a Global Distribution System (GDS) that works with all of your chosen TMCs. This means you never have to wait for risk alerts and can update travelers in real-time, all while spending less.
Easy User Experience and User Interface
If you've been using the same travel risk management software for a long time or are using a travel risk tool as an extension of an existing travel management application – it's likely you're not getting the most out of it. These tools are usually built as an add-on and maybe lack the dedicated expertise and user interface (UI) you need for meaningful business travel risk management.
Look for an application that is:
Easy-to-use with a straightforward and clear interface/user experience (UX).
Regularly updated, so your software is reliable and includes the latest travel management innovations.
Fast, so that you can respond to traveler needs in real-time.
Global Travel Risk Intelligence
In 2020, experts stress that global travel management capabilities are essential for a complete and comprehensive global outlook. This is because travel risk monitoring is increasingly wide reaching and varied, and includes concerns such as geopolitical shifts, disease outbreaks, and even climate change.
To cut through the noise of what's most important for your travelers and their location, it's vital that the travel risk data you're using is trustworthy and from an industry-recognized source.
Your chosen travel risk management tool should work with a trusted security intelligence partner that vets security data, so you avoid misinformation or irrelevant data distribution. If a security concern arises, you need the ability to communicate the correct information to your travelers, fast.
Expert Support
Staying on track of business travelers is often a 24-hour task, especially when your customers are working across different time zones or are constantly on the move. A provider that's easy to contact and communicate with in a crisis will give you the reliability and assurance every Travel Manager needs. Select a platform with the uptime and support capabilities needed for global travel management, so no traveler is left in the dark regarding travel safety risks.
Is Your Travel Risk Management Provider Truly Equipped to Fulfil Your Traveler's Safety Needs?
It's clear that even within well-known travel risk management tools, such as an SAP Concur application, there's still room for improvement.
Or, if you're still communicating with multiple TMC partners, do you have the data consolidation you need or the reliability required, to track travelers and deliver comprehensive safety risk alerts in real-time?
Travel risk management software that's built with dedicated travel risk expertise empowers you, the Travel Manager, to maximize your risk management capabilities and keep travelers safe. Learn more about the benefits of choosing a dedicated, expert travel risk management platform, here.