The Practical Scope of Travel Bots – How They Will Change the Industry
Posted by Mike Atherton on 05 December, 2019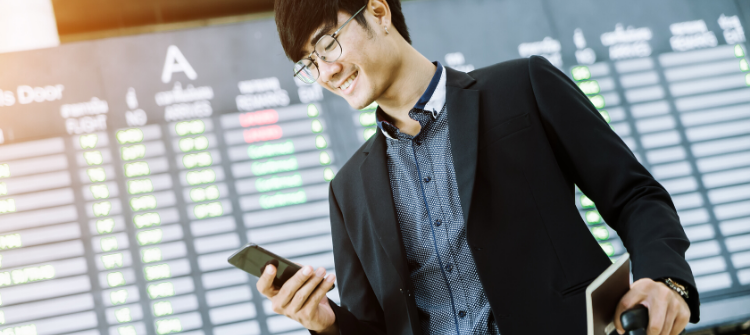 There's a growing demand for digital convenience within the travel industry and travel management companies are transforming themselves to match. The integration of rapidly-evolving technology into our day-to-day lives has completely changed the way we travel.
Where corporate travel used to be mired in paperwork and documentation overload, the industry is changing to meet the needs of travelers that demand seamless experiences. One way in which this is happening is through the application of travel bots, and game-changing artificial intelligence.
The Effect of Artificial Intelligence on the Industry
A chatbot is a programme that uses artificial intelligence to simulate a human conversation with a customer. When applied to the travel industry, they potentially offer an unprecedented level of control and convenience to the traveler, while helping to streamline and automate processes for the TMC.
The industry's adoption of AI chatbots is unsurprising. 40% of large businesses are expected to use the technology by 2020. And, as more people book travel solely through mobile devices, the demand for a totally personalized experience has increased.
Thanks to AI's capability to draw conclusions and learn from traveler interaction, travel bots will be able to tailor the booking experience directly to the traveler. This will make the use of intelligent travel bots an essential part of the mix of communications technologies that TMC need to support.
How Travel Bots Will Help TMCs Evolve Their Customer Journeys
'Friction-free' is a commonly used phrase within the industry, but it perfectly encapsulates the appeal of chatbots to both TMCs and customers.
Having an automated, fully personalized travel bot can help your TMC stand out. Correctly positioned, they're able to provide quick responses to defined customer queries, especially those that are non-revenue generating, but need answering all the same. The use of targeted travel bots needs to be intrinsically tied to measurable gains in customer satisfaction.
It's here we can see the current practical scope for travel bots within the industry. Simply put, bots can't yet give travelers everything they want – business travel is too complex. Handing over the entire traveler relationship to bots isn't feasible yet. The scope then is to use a method which marries the best of people with the best of what a bot can offer.
The best practical use for travel bots currently is to keep them on defined activities with the option for the traveler to always, seamlessly, be handed off to a well-informed human agent. This creates a distinction between the two that allows them to work excellently together to deliver the best service possible.
Being Smart – Why You Don't Need to Go Big
Chatbots can help TMCs in a huge variety of ways. However, it's important to remain pragmatic about their usage.
Travel bots can take one of two roles in your business – a completely conversational bot that acts almost as like an additional member of staff, or a bot that deals in simpler tasks. While it might be tempting to immediately opt for the full experience, it's worth considering the effect a smaller bot can have on both your business and the traveler's customer journey.
The scope of your bot should be considered carefully. Installing a travel bot to perform small tasks can add a lot of value for little cost. If it has responsibility for delivering invoice reprints, profile updates, password resets, and other smaller requests, your human staff have more time to deliver a higher quality of service elsewhere.
By employing a travel bot to perform smaller tasks, it gives the traveler a sense of achievement. It also helps keep agency costs down and productivity up by focusing efforts where they're really needed - answering complex queries and making bookings. The effort required to employ fully conversational bots across all agency processes is massive and will take up significant time and resources. A more pragmatic approach would be to focus on discrete process gains and build incremental ROI towards a fully conversational future.
Changing Your Focus
It's undeniable that travel bots will help our industry transform itself to satisfy the demands of travelers. Processes need to be faster, more involved and more direct.
A conversational travel bot, correctly engineered, can be an efficient, even elegant way of providing the traveler what they need with the smooth transition to a live agent when necessary. Supporting a traveler's journey can become more personal, giving them exactly the information they need to help them get where they're going.
Mantic Point is helping TMCs reach the next level with a fully personalized, cutting-edge service. Visit our product page to learn more. Alternatively, book a free demo of our white-label app software for a more hands-on example.