Why Email Still Has the Edge for Travel Managers
Posted by Mike Atherton on 05 October, 2017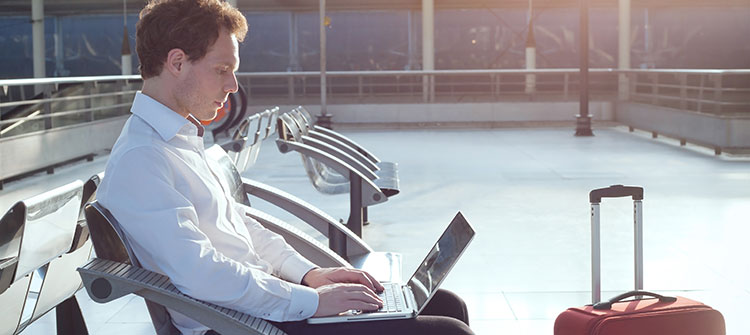 Over the past few years, it's been very much en vogue to declare email dead; belly up in a sea of social media platforms and messaging apps. It's estimated the average person receives 121 emails a day and humanity as a whole 193.3 billion, and, unsurprisingly, some argue this deluge of communication is driving consumers to alternative options such as social media and instant messaging. So, should travel management companies (TMCs) find another way to communicate with travellers or is talk of email's demise premature?
Is Email Still Relevant?
The figures above appear to tell a tale of oversaturation and customer disengagement and, taken in isolation, make for grim reading, but they don't tell the whole story.
For all the talk of "email fatigue", a recent report by Campaign Manager reveals that more than half of those surveyed in the U.S. check their personal email account more than 10 times a day, and it remains by far their preferred way to receive updates from brands. Furthermore, research by global management consultancy Mckinsey & Co found that email is still 400 times more likely to convert than social media.
For travel specifically, the trend in Campaign Manager's research becomes more marked still, with the preference for email as the means of communication jumping to 66% of all respondents. Millennials are by far the most likely to take action from an email: 50% of under-35s were likely to move further down the purchase funnel after receiving an email, contrasted with 27% of the 35-54 age group and 15% for the over-55s.
So, while new media and instant messaging might be chipping away at its dominance, email is still very important to a lot of travellers. In fact, it's particularly relevant to younger travellers, whom one might have expected to be more enamoured of other options.
What does this mean for TMCs? In short, email isn't going anywhere soon, so rather than worrying about the medium, TMCs should be worrying about their delivery. As we'll see, there are a few key things travel managers should be focusing on to ensure their merchandising and promotion hits the mark.
How Can TMCs Give their Email Communication the edge?
Personalisation is Key
Business travellers are receiving more emails than ever before, so anything dull, irrelevant, or that feels like spam is consigned to the junk folder and the unsubscribe button clicked in a heartbeat.
A good starting point for avoiding this is personalisation. According to SaleCycle, including a customer's name in your email subject line can boost open rates by 5.7%. Make your travellers feel as though you're talking to them on a personal level and not just as another prospect, and improved click through rates will follow.
The good news is that the travel sector is already fairly good at this; satisfaction with travel brands' email personalisation was at 59% among those surveyed by campaign manager. The bad news is there's work to be done. Travel lags well behind retail, which scored 76%.
Relevance
The old adage "know your audience" has never been more relevant than when discussing email communication. Consumers are the most discerning they've ever been, and corporate travellers are no different. Bombard travellers with irrelevant information and the results are predictably poor.
Instead, travel providers must look to deliver relevant, timely content to corporate travellers by making the most of the data at their disposal. Combining booking history, profile and policy TMC's have a huge opportunity to manage the traveller communication life-cycle. Communicating time sensitive content direct to the traveller, whether that by to promote post booking ancillary sales to making sure the traveller is aware of all disruption and risk alerts impacting their journey, the TMC is in the ideal position to deliver joined-up, personalised, conversational communication.
Time it Right
As well as personalised, relevant content, the timing of your email can have a bearing on its success. It's no use offering your business travellers discounts, add-ons, or further product opportunities at the wrong stage of the cycle. At best, they'll regard your communication as irrelevant and at worst, irritating or common-or-garden spam.
For many business travellers, the optimum time for messaging about ancillary products such as car hire or seating upgrades is post-booking, so targeting this window is crucial to success. Fortunately for TMCs, tools exist for reaching the right traveller, with the right merchandising, at the right time. Some travel management apps contain in-built analytics that monitor booking data and isolate booking patterns, allowing travel managers to trigger merchandising emails based upon when the traveller is mostly likely to respond or click through.
Segment and Target for Success
Taking who you target and when a little further, segmenting your traveller data into target groups can help you get the most out the data available. The use of metrics such as traveller demographic, trip type, or trip destination, can help to group together the travellers you want to target for specific merchandising opportunities—crucial in personalisation and providing relevant content.
Delivery is Everything
Delivery goes hand-in-hand with relevance for influencing decisions among business travellers. According to research by US marketing technology group Acxiom, one of the key factors in whether travellers read a marketing email is how well it works when accessed on a smartphone.
It's simple, if the message is hard to read or doesn't look good, the majority of travellers (70% of those surveyed by Acxiom) will simply delete it, and a fair proportion of them (16%) will unsubscribe to boot. So, when preparing merchandising or promotional emails, be sure that they're easily accessible on a smartphone.
It's far too soon to declare email irrelevant as a communication tool for TMCs. While business travellers are receiving more emails than ever before, this doesn't appear to have turned them off email. What the numbers do show, is that increasingly TMCs need to find a way to cut through the cacophony of marketing chatter travellers receive in their inbox each day. To do this TMCs need to content which is personalised, relevant and timely.
For more on how our travel communications apps can help give your email communications the edge, book a consultation today.