Best Language Apps for Corporate Travellers
Posted by Mike Atherton on 19 May, 2016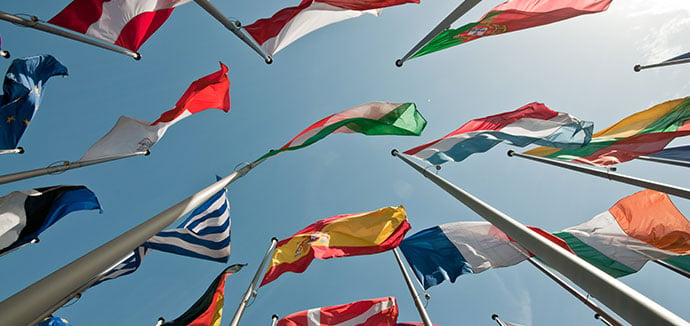 Learning a language for corporate travel can seem like a big commitment, but these apps provide simple and affordable ways to pick up useful phrases to make the most of your business trips.
When planning for corporate travel, your priorities are simple: you need an itinerary that allows you to achieve your objectives, a means to manage your travel documents, and the security of knowing that you're avoiding any unnecessary travel risks. Once you've arrived however, you need to be sure you have the right knowledge to get results from your trip.
We've talked before about the importance of understanding regional customs for business travellers. Even the most carefully laid plans can be disrupted by an offensive gesture. Learning even just a few useful phrases of a language is rarely as essential, but it can add real value to your journey.
Even if your meetings are conducted in English, you may well want to work on picking up some of the local tongue for yourself, for any free time you might have with your regional colleagues, hosts or even prospects. This will be especially important if it's a region you plan to visit regularly.
With the right app in your pocket, you can be practising your 'pleases' and 'thank yous' over breakfast, or learning how to ask for a coffee while travelling between meetings. These four apps range in price and popularity, but all have something to offer to the business traveller.
Duolingo
Duolingo is arguably the best known language learning app, and has been installed on over 50 million devices worldwide. It's entirely free to use, and offers a wide range of languages for native English speakers including:
Spanish
French
German
Italian
Portuguese
Dutch
Hindi
With many more currently in beta testing. It uses a mixture of flashcard, listening, voice recording and written tests to build up knowledge and test progress. Gamification makes learning engaging and rewarding, and the results in improved fluency can be posted to your LinkedIn profile. The website version also offers opportunities for more in depth testing, and to test yourself against the clock.
One downside to Duolingo is that business specific language content is only available once you have completed a lot of groundwork in grammar and other topics. It also lacks any form of offline mode, meaning that you will always need Wi-Fi or data to be able to use it. Other than that, its massive popularity speaks for itself. Nearly 3 million reviews have given the app an overall star rating of 4.7. Its users love it, and its costs them nothing.
Memrise
Memrise is more than just a language app. This memory-based tool can be used to create and study courses on almost any topic – from learning the periodic table of elements to the most useful functions in Excel. However, its main use is in language learning, with hundreds of courses on languages including Russian, German, Spanish and Mandarin. It is completely free and has over 280,000 reviews on Google Play, with an overall star rating of 4.7.
Memrise's key downside is that its emphasis on memory makes it a poor fit for testing your ability to take and use what you have learned in new contexts. It also lacks voice recognition capabilities, meaning that you won't be able to test your pronunciation before you travel.
busuu
Unlike its competitors, busuu charges a monthly subscription for its premium services, of between £4.16 to £12.99 per month. In return, however, users get an in-depth language learning experience that offers them access to native speakers, an offline mode and tailored modules for business. It's 12 available languages are:
English
German
French
Spanish
Italian
Japanese
Portuguese
Russian
Turkish
Arabic
Chinese
Polish
busuu splits its apps up by language and age group. All apps have ratings 4 stars or above.
Rosetta Stone
Before the rise of the smartphone, if you wanted to learn a language in your spare time you may well have encountered Rosetta Stone's audio courses, books and CD-rom software. Compared to its modern competitors, Rosetta Stone's app looks a little dated. What's more, according to some reviewers, it's by far the most expensive of its type. However, it still has a 4.5 star rating from over 200,000 reviews and by far the largest selection of languages available to learn: 24 in total.
So there we have it, four great apps for learning languages on the go. No doubt in the future business travellers will have access to speech-to-speech translation, either via video chat or via a Babel-fish style earpiece.