The Future of Voice Recognition in Business Travel
Posted by Mike Atherton on 09 October, 2018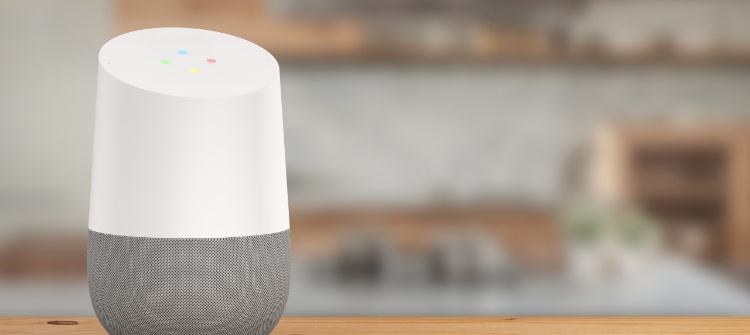 It's 2018 and we're living in the future. We have infinite information at our fingertips, Tesla is preparing holidays to the moon, and there are smart devices in every pocket. We've become so used to technological advances that we barely batter an eyelid when we hear about artificial intelligence (AI) or voice recognition software. It's become de rigeur – a true testament to how far things have come. However, there are exciting times ahead for these technologies, especially in terms of how they'll shake up business travel.
Where are we now?
Voice recognition is fast becoming a massive trend in the travel industry. With 40% of adults using voice search at least once a day and ComScore predicting that half of all internet searches will be voice searches by 2020, it's easy to see why. Consumers are adopting voice recognition devices, like Amazon's Echo, at a rapid pace, and more and more TMCs are realising the benefits of providing their travellers with the same voice search experience they're used to at home.
There's a catch, however. Many of the current voice interfaces available to business travellers only function with fairly prescribed single statements, such as "What time is my flight arriving." This may be useful, but unless these interfaces can learn to interpret vernacular and every day speech patterns, the technology will be held back from widespread adoption.
So, while it's fair to suggest that voice recognition software is a few years away from true ubiquity, there are some fascinating developments already happening in the travel sector. Many hotels are experimenting with installing Amazon Echo devices in their rooms, enabling their customers to search for directions, order room service, control the lighting and much more.
Expedia, the world's leading online travel agency, has recently released an Amazon Alexa app which lets travellers check their itinerary and book a rental car for when they arrive at the airport, all with just their voice. There's even an app for the Google Home smart speaker, developed by Royal Dutch Airlines, that helps you pack your luggage.
Perhaps the most practical use of voice recognition software yet, Google's Pixelbuds wireless headphones can translate, in real time, up to 40 different languages. This technology has the potential to revolutionise business travel. Imagine being in a meeting with 3 different people, talking 3 different languages, and being able to understand them all with minimum effort. Regrettably, this live translation is an exclusive feature, requiring not only a pair of Pixelbuds but also one of Google's Pixel range of smartphones. This lack of universal availability speaks volumes about the software's current beta state, but it has us excited for where this could go in the future.
What are the Benefits of Voice Control?
There are many potential benefits of voice recognition for both your travellers and your business. Did you know that, despite the rigorous practice we put in each day, tapping our smartphone screens is 3 times slower than using our voice? Saving a few vital minutes is always useful in today's hectic world, but when your business travellers are rushing to the airport for a flight, offering them the option to access their flight information with a simple voice command could really help alleviate the stress of travel.
Providing the option to control your app by voice not only reflects well on your brand in the obvious ways, but voice recognition software breaks down the barrier between your brand and your customers. According to Google, almost 70% of requests to the Google Assistant are expressed using natural language, not the typical keywords most people search when typing. People talk to voice assistants in the same, organic way as they'd talk to a friend – they trust them. Voice recognition technology offers a real opportunity for travel brands to truly connect with their users in this respect.
The Future of Business Travel
Voice recognition software may still be finding its feet, but there's no doubt this technology will revolutionise the travel industry in coming years. It's easy to picture a future in which your business travellers can book their flights, arrange their hotel, sort out a rental car, and check the weather at their destination in a matter of seconds—just by asking.
Once travellers arrive, they'll be able to talk to their hotel room to check their schedule and book an Uber for their business meeting. At that meeting, business people from around the world will talk in their native tongue and be understood by all, instantaneously—even the minutes will likely be taken automatically by a smart speaker.
The likelihood of this imagined future coming true depends on a few factors.
Firstly, there's the question of how quickly people will adopt this new tech. The number of users is already increasing thanks to the low barrier of entry – most smartphones now have voice recognition systems, and what could be easier than using your voice? However, privacy is a growing concern. Many people are still not comfortable with the slightly Orwellian concept of having a microphone in the room that is constantly listening.
This concern is doubled for businesses, for whom confidentiality and data security are key concerns. All the big players in the tech sector may be quick to reassure us that our conversation history and personal data is safe in their hands, but this is still a big hurdle that the entire tech industry will have to overcome if voice is to become the dominant input mechanism in the future.
The second factor that will decide the fate of voice in the travel sector is how well TMCs and other travel organisations take advantage of it. Offering your customers the ability to request basic information via voice is one thing, but the travel companies that thrive in the future will go further still.
Let's assume that one of your business travellers grows comfortable talking with your app and you learn a little about his interests. You'll be better positioned, and trusted, to offer ancillary products to them post-booking.
TMCs of the future will likely become much more comprehensive in this respect, transitioning from being just a utility company to an experience-based travel management platform that can take care of every aspect of a traveller's business trip.
If your travel company is tempted to get ahead of the curve and add voice recognition capabilities to its travel itinerary apps, it's recommended that you start small, offering simple features to start. Only once your customers grow comfortable using voice should you start adding more complex functions. As long as you build a level of trust with your customers and are adding convenience and value at every step, incorporating voice recognition technology into your travel business apps is sure to be a success.
That's the future of business travel covered, but what can be achieved with today's technology? See for yourself how Mantic Point can help you create a seamless travel experience for your business customers by booking a demo.