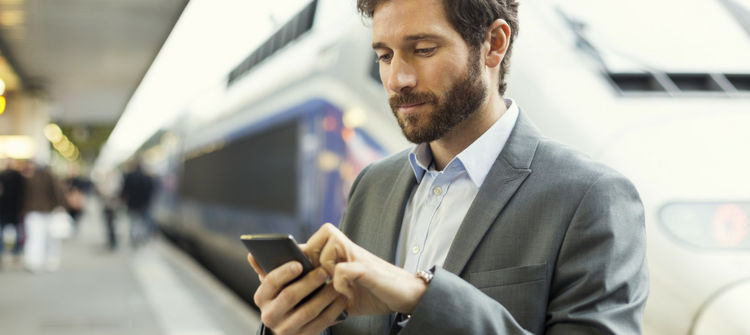 A recent survey showed a clear majority of business travellers believe the success of a travel programme hinges on it having an effective mobile platform. To help TMCs and corporate travel managers capitalise on this opportunity, we've written a two-part guide to the future of mobile in business travel management.
In part one of our guide (found here) we looked at some of the evidence that there's a demand for better mobile apps for business travellers, how they can enable better travel risk management and why omnichannel strategy is important. In part two we'll continue to look to the future, but first we need to quickly visit the Ghost of Mobiles Past.
Swiss-Army Phones
Cast your mind back to just over a decade ago, a darker time when large, primitive mobile phones roamed the land – more keypad than screen. Back then if you were leaving the house you first had to make sure you had your phone, audio player and camera.
Then the first-generation iPhone was released, integrating those three functions into one affordable device, and the world was changed forever.
Since then, smartphones have gone on to become browsers, social media hubs, high-definition TVs, fully-fledged gaming platforms and so much more. It's increasingly important to the success of your app that travellers can take advantage of new functionalities smartphones add in the future.
Digital Identification
Currently electronic boarding passes are relatively commonplace, and 74% of passengers used one via their smartphone in the last 12 months – clearly your mobile app should empower users to access e-passes directly.
You should also plan for developments to this concept, as it seems to be something business travellers are desperate for, with 82% hoping for the introduction of digital passports that allow them to move freely through airports.
Keyless Entry
Keyless entry to hotel rooms is another spin on this idea. Simply put, travellers are sent a "digital key" on their smartphone when checking in online, and when they are in range of their room it emits a Bluetooth signal, unlocking the door.This means travellers can skip the check-in desk all together, so no wonder it's increasing in popularity and generating incredible feedback from business travellers.
Hilton has revealed that three out of four loyalty members who use digital check-in also request a digital key, which has increased "efficiency of arrival" ratings by almost 10% and the overall hotel experience rating by 5%.
Managing digital keys for hotel rooms, shared-working spaces and office blocks might be more convenient if your app can provide a digital keyring.
Expense Management
Another feature we predict will start working its way into travel management apps in the future is expense management functionality. Complying with corporate travel policy isn't just a matter of best-practice, it's a legal issue with real-world consequences – a major source of stress for business travellers.
In fact, an in-depth report into the stresses involved with business travel demonstrates that post-trip can actually be more taxing than the rest of the journey. Expense reporting is actually considered by travellers to be just as stressful as long spells (more than two nights) away from home or travelling to areas rife with geopolitical drama. Meanwhile, a fear of flying and jetlag are considered less stressful than filling in a simple reimbursement claim!
Adding functionality to your app that can scan receipts and upload the data directly to your expenses platform won't just decrease stress but also completely remove a step from the customer journey – manual data entry.
Location-Targeted Content
Personalised messaging has been shown to increase engagement by up to 42% compared to generic content, which makes location-targeted marketing a great opportunity to not just better engage travellers but ensure they see promotional offers when they're most likely to need them.
Location-targeted marketing uses GPS, Wi-Fi or beacon technology to personalise the offers you send to travellers by only sending them when they are within range of a certain marker. For example, if you know someone is travelling with a colleague you can send BOGOF coupons when they're within range of a restaurant, or, if they're travelling by car, you can offer a discount as they're entering the car park – something they will likely appreciate.
You can even increase this personalisation by integrating other traveller data. For example, if a traveller is only entering an airport within 15 minutes of their flight you can offer fast-track boarding; if they're a few hours early you can offer discounts on food, drink or entertainment; and if they haven't purchased an ancillary product they regularly use, you can send them a reminder to upgrade.
Our Mobile Traveller Survey revealed a definite appetite for this functionality, with over 75% of respondents saying they'd like to book car parking on their smartphone, 69% saying they'd like to book car hire on their smartphone and over 65% keen to book taxis on their smartphone.
What's especially interesting is only 35% of respondents said they currently used their smartphones to book those services, showing a definite gap in the omnichannel customer journey which could be plugged by location-targeted content.
The rise of bleisure travel means the future of mobile travel management may require functionality that increases travellers' enjoyment of their free-time. With 94% of business travellers using their smartphone to research things to do in their downtime, location targeted content could help you meet this need.
This technology is already being used across the globe to offer content like beacon-guided heritage trails and walking tours. Integrating information that helps travellers identify local sites and attractions could capture users who don't have an abundance of spare time to sightsee, but might like to spend an evening exploring the area near their hotel.
You could even curate your own content by encouraging users to submit reviews to help other business travellers discover hidden gems, safely explore an unfamiliar city or find affordable places to eat. With this type of content, you'd be able to offer value no other business travel management app could, especially if you're able to partner with local businesses to provide discounts.
Dealing with Disruption
One of the most substantial pain-points business travellers face can't be mitigated through the clever use of mobile technology – delays and cancellations. What you can do through your app though is ensure travellers are informed as soon as possible and kept up-to-date.
A recent study by the International Air Transport Association (IATA) showed that real-time updates about disruption is the service travellers believed was most likely to improve travel disruption. It also showed 85% of respondents wanted to be able to check the status of their flight from their smartphone. We found very similar results in our Mobile Traveller Survey, which revealed 90% of respondents found having their 'flight status' sent directly to their mobile was either really useful or useful.
With business travellers constantly on the go, it's no surprise studies also show mobile platforms are by far the most popular option for receiving travel notifications. Although SMS messaging is currently the preferred method of delivery, business travellers are swiftly moving towards a preference for contact through smartphone apps.
In the face of trip disruption, business travellers also said they'd appreciate help rebooking flights (53%) and finding hotel accommodation if necessary (42%).
Considering the level of automation currently available through business travel software, there's no reason you can't begin to develop functionality that automatically books tickets on the next flight or even a night in a hotel, when disruption occurs.
Looking further ahead into the future, this feature could be extended to integrate with other applications to automatically book you in for a relaxing spa treatment or arrange some networking with local LinkedIn contacts when meetings are cancelled.
More Than Just a Booking App
Many travellers now rely on a range of smartphone apps to book trip-elements, check in for flights, and view itineraries. The key to capitalising on the increasing use of mobile platforms in business travel is to ensure you're offering more than just one specific functionality.
A lot of the technology we'll come to rely on in the future actually already exists and is being used by business travellers. Your aim should be to create an app that enables these tools to interact and offers travellers seamless access to everything they need via one platform. You need to be thinking about how you eliminate switching between apps, performing manual searches or scrolling past content that isn't relevant. These are the ways you can create additional value for users in the future.
For example, imagine an app that not only let you know your flight was cancelled, but automatically found the next three flights available and empowered you to book a seat with a single tap.
Now imagine that app also knew you weren't the type of person who likes to sit around and wait, so it found a nearby shared-working space, a popular attraction or recommended a restaurant based on your colleagues' reviews.
And what if that app then cross-referenced those suggestions with travel risk data to ensure you weren't wandering around an unsafe area and that there was no adverse weather occuring, before setting a route for you to take.
Wouldn't that offer a huge amount of value to users? Not just simplifying the journey from receiving the bad news of your trip being disrupted, to arranging alternative transportation and filling your spare time, but also seamlessly blending business and leisure.
Click here to download Transforming the Travel Experience Through Mobile and Apps and find out what a mobile app could do for your organisation.