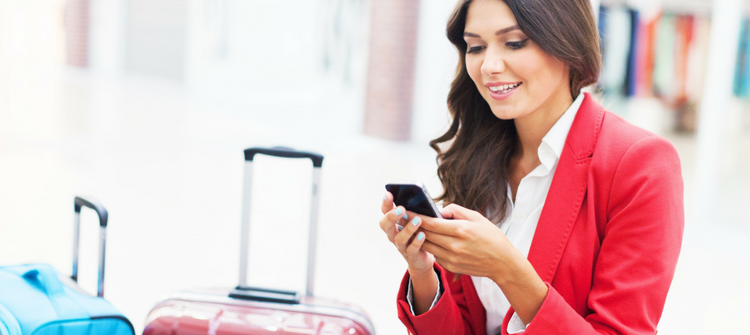 According to research from Google, more than half of business travellers use their smartphones to book elements of their trip – and that figure is growing. To help you capitalise on this trend we've written a two-part guide to the future of mobile business travel management.
Business travellers aren't just using their smartphones to book trip-elements. An Amadeus study reveals 61% of travellers also use their mobile for flight check-ins and over half open a mobile app once they reach their destination.
The viability of business travel apps has been confirmed by a number of studies including our survey of Mantic Point app users, in which 85% of travellers we spoke to said the overall service provided was either very useful or useful. What's even more interesting for TMCs and corporate travel managers is 60% of respondents to an unrelated survey said a robust, efficient mobile platform is a key driver for a successful travel program.
Not only are business travel management mobile apps both popular and useful, they also help promote compliance with travel policies – saving travel managers some of the effort needed to encourage good traveller behaviours.
To help you build an app that's popular with contemporary travellers, but also has scope to grow, we haven't focused on emerging technology in itself. Instead, we've looked at some of the ways we believe it will be used to better serve business travellers in the foreseeable future.
In part one we look at how an app can help manage travel risk better and why omnichannel strategy is vital to success. In part two of our investigation into the future of mobile business travel management, we'll be looking at, among other things, location-based content and how mobile apps can help travellers deal with disruption.
On-the-Go Business Travel Risk Management
Business travellers today face unparalleled levels of threat from terrorist activity or natural disasters. So, it's no wonder a recent survey found over half (56%) of business travellers were moderately to severely anxious about potential threats during business travel – something Skift has named "Permanxiety".
Currently, TMCs mostly manage travel risk through comprehensive risk reports, which can require hours researching the health risks, weather warnings and geopolitical threats associated with a destination. Although some travel risk management software helps automate the process, this will pale in comparison to what will soon be possible.
With nothing more than a traveller's destination and health-profile, travel management software will be able to automatically pull together an entire risk briefing full of up-to-the-minute expert information on weather hazards, health risks and terror threats.
It's important you deliver these risk briefings in a format that's optimised for mobile, can be accessed on all devices and is easy-to-read. After all, having travel risk documents at your fingertips is of little use if you can't open the file or the layout is heavily distorted. You should also ensure travellers can flag any concerns they may have and arrange further support to ensure their peace of mind.
In the future, the most significant change we foresee (as a result of the increasing use of mobile travel management apps) is the emergence of a more reactive approach to risk management. If an incident occurs when a traveller is on-location, automated push-notifications can be used to keep them abreast of any developments and advise on how they should react – ensuring they don't feel abandoned.
Equally as important is ensuring travellers can respond to any emergency that may occur, yet, shockingly, a Control Risks Group survey from GBTA found that almost a quarter of US and UK business travellers have no idea who to contact following an emergency abroad. This uncertainty and insecurity can be minimised by providing business travellers with access to some of the following functionalities we believe will become widespread in the future:
Traveller tracking tools that are accurate within 20 metres
Secure check-in technology so travellers can let loved ones know they're safe
A "Mayday" button that can alert a traveller's nominated contacts and request emergency assistance 24/7
Live chat with experts, regardless of whether signal or Wi-Fi is available
Omni-Channel Customer Journeys
Though we firmly believe mobile apps are the future of business travel management, your traditional platforms shouldn't be ignored. That's why we advocate for "mobile-first, not mobile-only".
This means is you should focus on improving the customer journey as a whole, instead of looking at each aspect or channel in isolation. This ensures travellers can switch seamlessly between platforms whenever they want, without encountering a dip in performance or a barrier to taking the next step of their journey.
This is vital because last year 49% of travellers used multiple devices during a trip, an increase of 15% on the previous year, and failing to offer a satisfying experience at any point will lead to your traveller simply switching to a competitor's platform.
You won't be operating on guess-work though. Thanks to advances in data collection and analytic technologies, you can collect feedback from every swipe, click, scroll and tap your travellers perform.
From this data, you'll be able to construct a picture of how travellers interact with your organisation at every stage of their business trip – from researching and booking trip-elements to ordering a taxi back to their doorstep and reviewing the trip.
Putting this together is no small feat though, and a real-world example given by Google shows an average business traveller recording over 700 digital touchpoints during just two business trips over the course of five months.
Nonetheless, better understanding this information empowers you to optimise customer experiences and ensure they are targeted with the right content, at the right times, all thanks to insight like:
When did travellers switch between mobile and desktop platforms? And why?
Which ancillary products did they book? And at what point in their journey?
Did your travellers take advantage of any discounts or offers you sent them?
Upon reaching their destination, what did travellers use your app for?
Once you understand how to read this bigger picture, it's easy to identify trends that let you know what travellers love and what they dislike about your app.
For example, if you notice travellers frequently research accommodation through your mobile app but switch to your desktop platform to view images, you can safely assume the gallery viewer on your mobile app isn't offering a satisfying experience. To remedy this, you can either improve the image viewer or make it easier for travellers to switch seamlessly between platforms. Better yet, you could do both!
You should always be looking to create a seamless customer experience for your travellers as they move through their interactions with your organisation, whenever, however, and wherever they want.
In part two of our investigation into the future of mobile business travel management, we'll be looking at, among other things, location-based content and how mobile apps can help travellers deal with disruption.
To find out more about what a mobile app could do for your organisation download our ebook "Transforming the Travel Experience Through Mobile and Apps".