Tech That's Shaking Up Business Travel
Posted by Mike Atherton on 30 October, 2017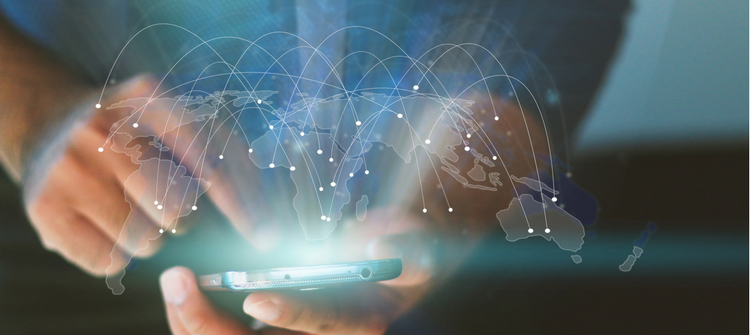 Technology has become ubiquitous in all walks of life, so it's no surprise that virtually every aspect of business travel is now virtualised, digitised or computerised. But what new advances are shaking up the world of business travel?
It's no surprise that most of travellers' digital moments are now on mobile, almost 90% according to Google, which is why we're always extolling the virtue of being "mobile-first". What does surprise us though, is the creative ways that organisations are able to use "mobile-first" to their advantage.
Geofencing
Geofencing uses GPS or RFID technology to trigger an action when a mobile device enters an pre-defined area, for example sending an email or SMS message.
Although it's not exactly an emerging technology, (one of the most creative uses of geofencing was this "Hijack!" campaign from way back in 2012), in 2017 we've seen it increase in popularity across many consumer industries.
You may not have been fully aware of geofencing's potential, but the ability to directly target audiences within a certain geographic location is perfect for any business in the travel industry. After all, where else can you almost guarantee people will be repeatedly travelling both literally and fuguratively through the customer journey, but an airport?
Whether you're simply aiming to offer retail deals or critical air-travel ancillary services like fast-track or lounge access, you can make use of geo-fencing to target and upsell to passengers at critical moments in their journey through the airport.
And thanks to the proliferation of cloud-based common-use infrastructure, this can be extended beyond the terminal right to a passenger's front door. Or hotel room. Or office.
For anybody who manages business travel, this is a great opportunity to manage every mile with pre- and post-travel services like baggage delivery and door-to-door transport. It's also a way to better enforce travel policy by sending reminders or emails to travellers via geofencing.
Location Sensor Data
Every year, our ability to collect and analyse data becomes more impressive. And every year we also find more unique ways to use that data.
The same proximity beacons used for geofencing, as well as other indoor location sensors, also provide information about how people and things travel through large spaces like airports, hotels and conferences.
This data can now be quickly and effectively analysed to better manage the flow of people at peak times, whether that's easing congestion in airports, reducing rush hour bottlenecks or providing a less stressful hotel experience.
As this technology becomes more commonly used, your business travellers will experience less friction as it eases one of their biggest pain points – queueing.
Biometrics
With many industry experts claiming the technology is already in place for accurate biometric identification, it appears to be a case of when, rather than if, this technology will be making an impact on business travel. There's just issues over governance and data security left to hash out.
Once cameras at the airport identify a passenger at the bag-drop and clear them for travel, the rest of their trip could be completely frictionless. The scanner will search for your booking, print out a luggage label and you'll be able to walk straight to security.
Once you've passed through security, it'll be just the same: the scanners will know if you're in the right terminal and whether you've got an early-boarding pass – signalling for staff to let you enter the aircraft.
AI Chatbots
Using artificial intelligence to answer your travellers' queries is a great way to free up more time for your staff to focus on high-value customer interactions.
Chatbots are now so intuitive to use and simple to set up, either through recognised interfaces like Facebook chat or your very own branded apps, there's no reason not to get involved and open up new channels of communication with your travellers.
This enables post-booking engagement directly with your travellers and ensures it'll always be at their convenience. Live chat is not only useful for improving traveller interaction and upselling ancillary services but can be a vital aspect of managing travel risk for your passengers – helping you fulfill your duty of care.
Bots have the ability to assess the risks and challenges of upcoming trips in real-time, notifying travellers of any potential problems and identifying alternative solutions.
Voice interfaces
When you're trying to juggle suitcases, carry-on luggage, tickets, your passport, wallet and travel itinerary, having access to hands-free information is a blessing.
This is why many businesses are rushing to make the content accessible via voice, ensuring it is as conveniently as possible for busy business travellers.
If you're able to understand how to adapt your content for voice in a useful way or can develop a way that voice can be used to help your staff perform more efficiently, you're ahead of the game.
Google Pixel Buds
There was a time that universal communication was just for the linguistically-gifted, but now Google is making real-time, in-ear translation available to every traveller, with their new Pixel Buds. When paired with Google Assistant, the wireless earbuds provide accurate real-time translation in 40 languages.
As technology evolves, its use to improve the lives of business travellers is constantly changing and nothing demonstrates this more than Google's Pixel Buds.
Over the decades business travellers have sought new solutions to language barriers, from early pocket translators to language apps. Now, real-time, in-ear translation is possible thanks to another leap forward in technology.
At Mantic Point, we're always keeping an eye on how technology is evolving so we're better informed about how it's going to change the future of travel management.