How To Pack For A Business Trip
Posted by Mike Atherton on 23 August, 2023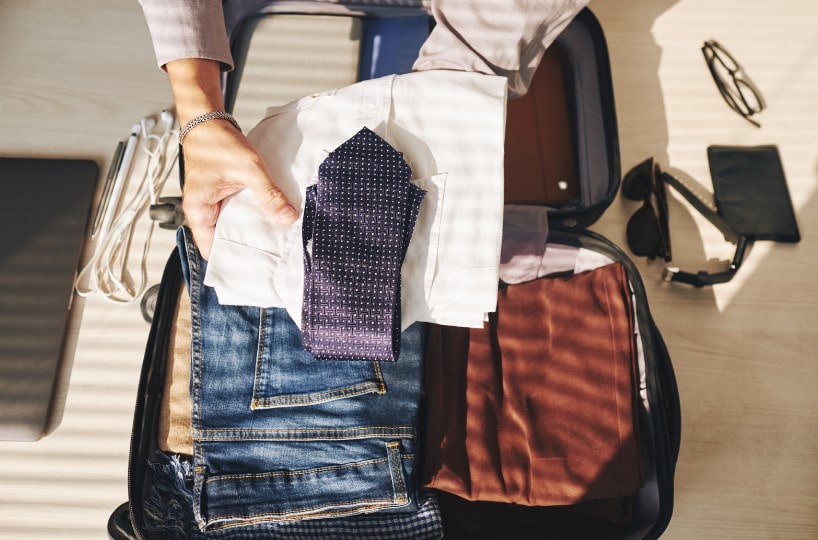 Business travel can be an exciting but hectic time for travelers - whether you are going cross-state overnight or travelling abroad for several weeks. There is a lot to organize and get ready, both in terms of your work and for the items you need to pack to ensure a comfortable and enjoyable trip.
However, packing for a business trip doesn't have to be difficult or stressful. By following these simple tips, you can make packing for your next business trip fast and straightforward, so you can complete that last minute presentation, or just relax and enjoy time with your family before your flight.
1. Make A List
At the risk of stating the obvious, making a list of everything you need to pack in advance will save you a lot of time and headaches in the long run. Once you have your list, cross-reference it with our business travel packing checklist to make sure you don't forget anything important.
2. Roll Your Clothes (Don't Fold!)
Whether you're packing for a quick trip or an extended stay, rolling your clothes is the best way to maximize space in your suitcase. Not only will this leave more room for other items, but it will also help prevent wrinkles (and save you time ironing in your hotel room).
3. Bring An Extra Suitcase If You Can't Pack Light
Depending on the length of your trip and how much you need to bring, it may be worth investing in an extra suitcase. This way, you won't have to worry about cramming everything into one bag and risking overpacking.
4. Travel Light Whenever Possible
This being said, the best way to avoid overpacking is to travel light whenever possible, especially when travelling abroad – the less you take, the less can get lost. If you only need a few days' worth of clothes, consider bringing a carry-on bag instead of checking luggage. This will save you time at the airport and eliminate the risk of lost luggage, as well as saving your employer money in stowage costs.
5. Invest In 'Packing Cubes'
Packing cubes are a game changer for regular business travelers and are one of the best ways to keep your suitcase organized and prevent clothing from shifting around during transport. They also make unpacking fast and straightforward between stops —simply unzip and unload!
6. Don't Forget Your Tech Essentials
If you're travelling for more than a night or two, chances are you'll need to bring along some tech essentials and digital media. Be sure to pack your laptop, tablet, smartphone, chargers, and any other devices you may need while on the road. We also recommend downloading a couple of your favorite Spotify playlists and a Netflix series or two in advance in case you can't get a good Wi-Fi connection at the hotel.
7. Keep Your Valuables Safe
It's always better to err on the side of caution when it comes to valuables like jewelry, laptops, and electronics, and sentimental items like photos. When possible, leave them at home or invest in a safe place to store them while you're away from your hotel room.
8. Pack Essential Toiletries
Most hotels provide basic toiletries like soap and shampoo (but not toothpaste), but there are some items that you'll need to pack yourself. These include medications, contact lenses/solution, hair products, and makeup essentials. Refer back to your list to ensure you don't forget anything important.
9. Double Check The TSA'S 3-1-1 Rule
Before packing liquids or gels in your carry-on bag, be sure to familiarize yourself with the TSA's 3-1-1 rule. This official government guidance states that all liquids must be stored in containers that hold 3.4 ounces (100 milliliters) or less per item, with all containers fitting into a 1 quart-sized bag. Similar rules apply when flying into or between countries within the EU (European Union).
10. Bring An Empty Water Bottle
Travelling long haul and flying can be dehydrating, and the costs of buying water can quickly mount up. Be sure to pack an empty water bottle to fill up once you've passed through security at the airport. This will save you from having to buy overpriced bottled water once you're past the checkpoint.
What Next?
Mantic Point provide integrated communication and travel management services for TMCs and corporate travel departments, helping provide a more enjoyable and stress-free experience for business travelers. To find out more about TripScape, please call +44 (0) 113 394 4564 today!
Image Source: Canva